Logical Security: Exclusive CISSP training partner of SearchSecurity
SearchSecurity has partnered with Shon Harris and Logical Security on all-new CISSP Essentials content, which will debut Aug. 29.
This Article Covers
RELATED TOPICS
Looking for something else?
TECHNOLOGIES
SearchSecurity is pleased to partner with Logical Security and Shon Harris, the information security industry's leading certification preparation instructor, to create an all-new 11-part edition of SearchSecurity's CISSP Essentials Security School featuring free, groundbreaking interactive content to help practitioners prepare for infosec's premiere certification.
SearchSecurity will debut the first segment of its all-new CISSP Essentials Security School Aug. 29, 2014, and will publish new lessons regularly throughout the fall.
CISSP Essentials Security School
SearchSecurity's CISSP Essentials Security School is a free, online training course that offers the Web's most comprehensive introduction to the material that must be learned in order to obtain the Certified Information Security Systems Professional certification. Originally created by Shon Harris in 2008, the all-new edition of CISSP Essentials has been completely revamped to offer articles, presentations and exclusive multimedia content found nowhere else on the Web.
Developed and maintained by the International Information Systems Security Certification Consortium (ISC)2, the CISSP certification confirms that an information security professional possesses the knowledge and experience necessary to succeed in the infosec field.
In addition to a college degree and four years of practical experience, candidates for the CISSP certification must pass the CISSP exam, a rigorous test that validates security professionals' knowledge in ten different domains, or key areas. Each CISSP Essentials lesson corresponds to a subject domain in the exam's Common Body of Knowledge -- the essential elements each CISSP-certified practitioner must know.
About Logical Security
Logical Security offers a wide range of consulting and training services to many commercial organizations, government agencies and financial institutions.
CISSP Self-Study Solution Set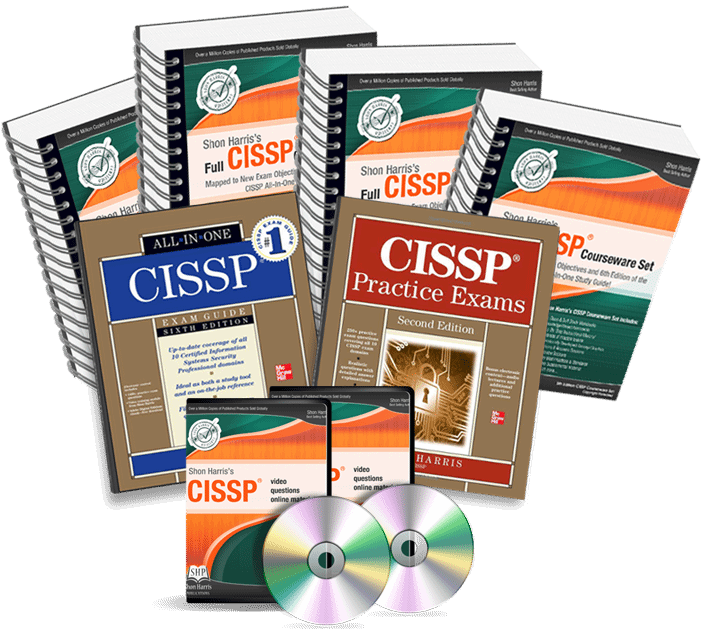 Logical Security's on-demand CISSP study course offers 40 hours of pre-recorded material to help the busy professional prepare for the CISSP exam on his or her own schedule. The CISSP Self-Study Solution Set offers more than 2,000 pages of learning materials, 24 hours of MP3 self-study audio recordings and more than 1,700 practice exam questions.
CISSP Live Online Training Course
Need a CISSP bootcamp but can't spare a week to travel across the country? Participate in Logical Security's CISSP Live Online Training Course and get the best CISSP training available without racking up the airline miles! This 40-hour bootcamp-style course is conducted entirely online featuring the same unparalleled learning materials in Logical Security's CISSP Self-Study Solution Set -- including a 2,000-page student workbook, hundreds of practice exam questions and scenario-based content reviews – and features instructor-led live online training on selected weekday and weekend schedules.
CISSP On-Site Blended Training Course
This ultimate CISSP training program, featuring a one-of-a-kind five-day in-person CISSP bootcamp, has been personally designed by Shon Harris to be the most robust and holistic CISSP training solution in the industry. In addition to a full 40-hour live CISSP training course, participants receive proven training materials including workbooks, study questions and MP3 self-study audio recordings. Plus as a special benefit, students receive access to more than 30 hours of exclusive CISSP training videos, and a CISSP exam simulator that allows students to test their abilities in an environment modeled after the actual CISSP exam process.
Logical Security offers a variety of in-depth security certification trainings covering not only the CISSP exam, but also virtually all of the most popular security certifications from (ISC)2, ISACA, CompTIA, and the EC-Council. No other organization can provide as many hours of comprehensive multimedia training materials and hundreds of exam prep questions.
Visit Logical Security to learn more about how it can help your organization and your career.
About Shon Harris
Shon Harris is the founder and CEO of Logical Security LLC, an information security consultant, a former engineer in the Air Force's Information Warfare unit, an instructor and an author. She has authored several international best-selling books on information security published by McGraw-Hill and Pearson which have sold over a million copies and have been translated into six languages. Ms. Harris authors academic textbooks for various publishers and articles for trade magazines.
Ms. Harris has consulted for a large number of organizations in every business sector (financial, medical, retail, entertainment, utility) and several U.S. government agencies over the last 18 years. Ms. Harris provides high-end, advanced and specialized consulting for organizations globally. She also works directly with law firms as a technical and expert witness on cases that range from patent infringement, criminal investigations, civil lawsuits and she specializes in cryptographic technologies. Ms. Harris was recognized as one of the top 25 women in the information security field by Information Security magazine.
Dig Deeper on Security Industry Certifications
PRO+
Content
Find more PRO+ content and other member only offers, here.