Definition
Crash Course: Spyware
Download Your Guide to the ISACA CISM Certification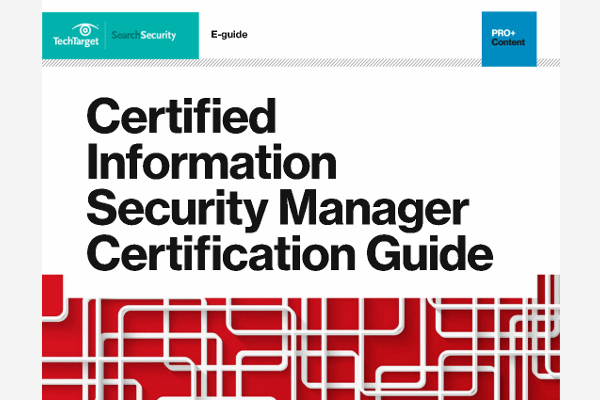 Take a closer look at the ISACA Certified Information Security Manager certification, including the value it provides security professionals, how it compares to other security professionals, and what the CSX program offers
By submitting your email address, you agree to receive emails regarding relevant topic offers from TechTarget and its partners. You can withdraw your consent at any time. Contact TechTarget at 275 Grove Street, Newton, MA.
You also agree that your personal information may be transferred and processed in the United States, and that you have read and agree to the Terms of Use and the Privacy Policy.

Learn IT: Get up to speed quickly





From the Editor:




by Margaret Rouse, Site Editor

In general, spyware is any technology that aids in gathering information about a person or organization without their knowledge. Internet advertising (adware) has been criticized for occasionally including code that tracks a user's personal information and passes it on to third parties without the user's authorization or knowledge. This practice has been dubbed spyware and has prompted an outcry from computer security and privacy advocates, including the Electronic Privacy Information Center.

Noted privacy software expert Steve Gibson of Gibson Research explains:"Spyware is any software (that) employs a user's Internet connection in the background (the so-called 'back channel') without their knowledge or explicit permission. Silent background use of an Internet 'back channel' connection must be preceded by a complete and truthful disclosure of proposed back channel usage, followed by the receipt of explicit,informed consent for such use. Any software communicating across the Internet absent of these elements is guilty of information theft and is properly and rightfully termed: Spyware."


Read our complete definition of spyware

Related white papers:




Expert Advice: What does spyware do?




Robert Vibert
Anti-Malware Solution Architect, Segura Solutions Inc.


What does spyware do?
Dear Robert,
I've read that spyware can get in a computer as a software virus or as the result of installing a new program. Can spyware actually take over your computer and access other Web sites?
Read Robert's answer



Removing spyware
Dear Robert,
My Web browser automatically attempts to access a certain Web site about once every hour. I assume that somehow I picked up some malicious spyware in my system. How can I get rid of it?
Read Robert's reply

Do you have a question about spyware? Ask our expert!




Best Web Links: What can you do to prevent spyware?




The spy(ware) who shagged me
Brent Sheets recommends some free spyware removal applications, but cautions the reader backup first. (SearchWin2000.com)


Your PC is under attack
Evan Hansen and John Borland explain how "a lot can be done legally to your computer and personal information." They also offer advice about how you can educate yourself to lessen the chance you'll be spied upon unwittingly. (CNET News.com)


Defending Against Spyware Invasion
Brian J. Smith examines Kazaa to shed a light on different techniques software developers use to distribute spyware. (SANS GSEC Practical)

Protecting your network from spyware
This tip, excerpted from InformIT,gives you some ideas on how you can prevent spyware from infecting your network. (SearchSecurity.com)

Is it free or is it spyware?
SpyChecker has a large public database that allows you to check and see if the program you want to download contains spyware. (SpyChecker.com)

Just how rampant is spyware?
PC Magazine invited readers to participate in a spyware experiment as part of their in-depth look at "Spyware: It's Lurking on Your Machine."(PCMag.com)




Product reviews: Cleaning up spyware




| | | | | | | |
| --- | --- | --- | --- | --- | --- | --- |
| | Anti-spyware product reviews (tucows) | | | | How to remove spyware (PC Hell) | |
This was first published in
July 2006
Continue Reading About Crash Course: Spyware
Dig Deeper on Malware, Viruses, Trojans and Spyware
PRO+
Content
Find more PRO+ content and other member only offers, here.