EINSTEIN
EINSTEIN is a federal government network monitoring tool mandated by the United States federal government's Department of Homeland Security (DHS). EINSTEIN monitors and analyzes Internet traffic when it moves in and out of federal computer networks, filtering packets at the perimeter.(Continued...)
Looking for something else?
TECHNOLOGIES
EINSTEIN is an intrusion detection system (IDS) for monitoring and analyzing Internet traffic as it moves in and out of United States federal government networks. EINSTEIN filters packets at the gateway and reports anomalies to the United States Computer Emergency Readiness Team (US-CERT) at the Department of Homeland Security.
Network Security Visibility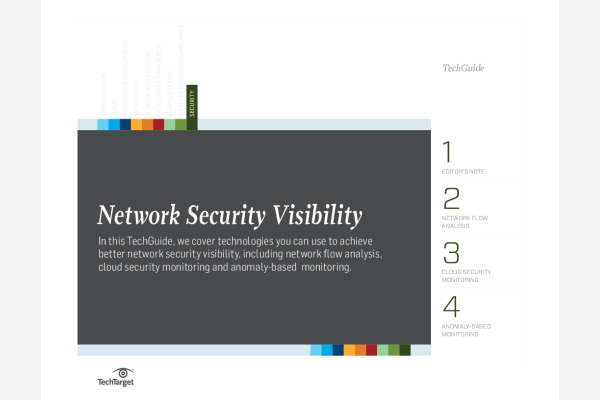 Ensuring comprehensive network security visibility is no easy task. Uncover expert tips on how to improve network security visibility with network flow analysis tools, cloud security monitoring solutions, and anomaly-based monitoring technology.
By submitting your personal information, you agree to receive emails regarding relevant products and special offers from TechTarget and its partners. You also agree that your personal information may be transferred and processed in the United States, and that you have read and agree to the Terms of Use and the Privacy Policy.

EINSTEIN provides the federal government with a cohesive view of Internet threats and a centralized point of authority for dealing with potential threats. A key component of EINSTEIN's success will be completion of the Trusted Internet Connection (TIC) initiative. TIC seeks to reduce the number of gateways to a manageable number and use EINSTEIN to monitor traffic flow.
The second iteration of EINSTEIN includes automatic alerts to US-CERT when activity matching predetermined patterns is detected. According to US-CERT, the patterns, which are called signatures, are not typically included in commercially available databases of known attack signatures, but are developed by US-CERT.
Einstein 3, which is now being tested in a pilot program, automatically detects and responds to cyber threats "before harm is done." EINSTEIN 3 has supplemental signatures developed by the National Security Agency (NSA) and uses real-time deep packet inspection (DPI). In addition to notifying US-CERT when a network intrustion is attempted, EINSTEIN 3 will also alert the agencies.
According to an audit released in March 2010 by the Government Accountability Office (GAO), implementation of EINSTEIN has been slow, even though it is mandated by the Department of Homeland Security. The audit found the Department of Homeland Security partly at fault for the delay and has recommended the agency take the following actions:
1. Establish milestones for agencies to submit the required Einstein service level agreements (SLAs).
2. Develop additional performance indicators to validate Einstein alerts and document agency responses.
3. Evaluate lessons learned to define future requirements and make agencies aware of their ability to access Einstein data.
4.Develop a process that ensures that both DHS and participating agencies complete deployment checklists and execute required service level agreements on schedule.
Continue Reading About EINSTEIN
PRO+
Content
Find more PRO+ content and other member only offers, here.