Hash-based Message Authentication Code (HMAC) definition
Hash-based Message Authentication Code (HMAC) is a message authentication code that uses a cryptographic key in conjunction with a hash function.
Download this guide to become a Web App Security superhero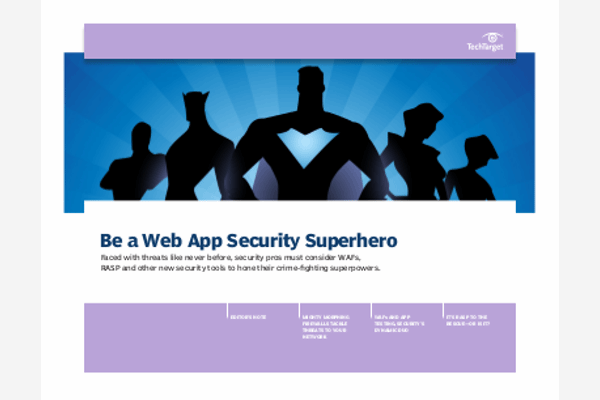 As web apps continue to face advanced attacks, protecting them requires more fine-tuning in order to match your app's distinct characteristics. Take advantage of this three part guide to access best practices for boosting your web defense and learn the latest in how to secure web apps on your enterprise network.
By submitting your email address, you agree to receive emails regarding relevant topic offers from TechTarget and its partners. You can withdraw your consent at any time. Contact TechTarget at 275 Grove Street, Newton, MA.
You also agree that your personal information may be transferred and processed in the United States, and that you have read and agree to the Terms of Use and the Privacy Policy.

Hash-based message authentication code (HMAC) provides the server and the client each with a public and private key. The public key is known, but the private key is known only to that specific server and that specific client. The client creates a unique HMAC, or hash, per request to the server by combing the request data and hashing that data, along with a private key and sending it as part of a request. The server receives the request and regenerates its own unique HMAC. The server compares the two HMACs, and, if they're equal, the client is trusted and the request is executed. This process is often called a secret handshake.
What makes HMAC more secure than Message Authentication Code (MAC) is that the key and the message are hashed in separate steps.
Continue Reading About Hash-based Message Authentication Code (HMAC)
Dig Deeper on Web Authentication and Access Control
PRO+
Content
Find more PRO+ content and other member only offers, here.