National Security Agency (NSA) definition
Also see cryptography.
Download this guide to become a Web App Security superhero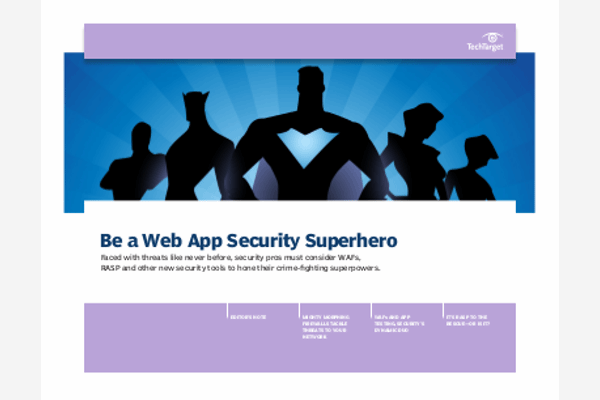 As web apps continue to face advanced attacks, protecting them requires more fine-tuning in order to match your app's distinct characteristics. Take advantage of this three part guide to access best practices for boosting your web defense and learn the latest in how to secure web apps on your enterprise network.
By submitting your email address, you agree to receive emails regarding relevant topic offers from TechTarget and its partners. You can withdraw your consent at any time. Contact TechTarget at 275 Grove Street, Newton, MA.
You also agree that your personal information may be transferred and processed in the United States, and that you have read and agree to the Terms of Use and the Privacy Policy.

The National Security Agency (NSA) is the official U.S. cryptologic (the science of cryptographic design and decryption) organization. Under a directive (revised version of the National Security Council Intelligence Directive (NSCID) No. 9) from President Truman and the National Security Council, the NSA was formed in November of 1952. The organization exists to protect national communications systems integrity, and to seek information about foreign adversaries' secret communications. The NSA works in close conjunction with the Central Security Service (CSS), which was established by Presidential Directive in 1972 to promote full partnership between the NSA and the cryptologic elements of the Armed Forces. The director of NSA/CSS, in accordance with a Department of Defense (DoD) directive, must be a high-ranking (at least 3 stars) commissioned officer of the military services.
Although the organization's number of employees (as well as its budget) falls into the category of "classified information," the NSA lists among its workforce: analysts, engineers, physicists, linguists, computer scientists, researchers, customer relations specialists, security officers, data flow experts, managers, administrative and clerical assistants; it also claims to be the largest employer of mathematicians in the U.S., and possibly worldwide. NSA/CSS mathematicians perform the Agency's two critical functions: they design cryptographic systems to protect U.S. communications and search for weaknesses in the counterpart systems of U.S. adversaries.
NSA denies rumours in circulation claiming that it has an unlimited "black budget" - undisclosed even to other government agencies. Nevertheless, the Agency admits that, if it were judged as a corporation, it would rank in the top ten percent of Fortune 500 companies.
Continue Reading About National Security Agency (NSA)
PRO+
Content
Find more PRO+ content and other member only offers, here.