SSL VPN (Secure Sockets Layer virtual private network) definition
An SSL VPN (Secure Sockets Layer virtual private network) is a form of VPN that can be used with a standard Web browser. In contrast to the traditional Internet Protocol Security (IPsec) VPN, an SSL VPN does not require the installation of specialized client software on the end user's computer. It's used to give remote users with access to Web applications, client/server applications and internal network connections.

A virtual private network (VPN) provides a secure communications mechanism for data and other information transmitted between two endpoints. An SSL VPN consists of one or more VPN devices to which the user connects by using his Web browser. The traffic between the Web browser and the SSL VPN device is encrypted with the SSL protocol or its successor, the Transport Layer Security (TLS) protocol.
Network Security Visibility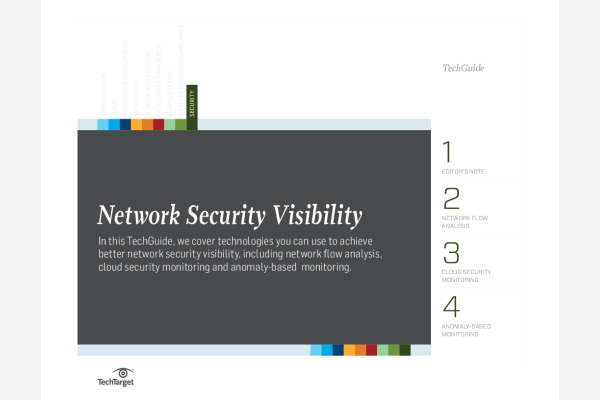 Ensuring comprehensive network security visibility is no easy task. Uncover expert tips on how to improve network security visibility with network flow analysis tools, cloud security monitoring solutions, and anomaly-based monitoring technology.
By submitting your email address, you agree to receive emails regarding relevant topic offers from TechTarget and its partners. You can withdraw your consent at any time. Contact TechTarget at 275 Grove Street, Newton, MA.
You also agree that your personal information may be transferred and processed in the United States, and that you have read and agree to the Terms of Use and the Privacy Policy.

An SSL VPN offers versatility, ease of use and granular control for a range of users on a variety of computers, accessing resources from many locations. There are two major types of SSL VPNs:

SSL Portal VPN: This type of SSL VPN allows for a single SSL connection to a Web site so the end user can securely access multiple network services. The site is called a portal because it is one door (a single page) that leads to many other resources. The remote user accesses the SSL VPN gateway using any modern Web browser, identifies himself or herself to the gateway using an authentication method supported by the gateway and is then presented with a Web page that acts as the portal to the other services.


SSL Tunnel VPN: This type of SSL VPN allows a Web browser to securely access multiple network services, including applications and protocols that are not Web-based, through a tunnel that is running under SSL. SSL tunnel VPNs require that the Web browser be able to handle active content, which allows them to provide functionality that is not accessible to SSL portal VPNs. Examples of active content include Java, JavaScript, Active X, or Flash applications or plug-ins.

Continue Reading About SSL VPN (Secure Sockets Layer virtual private network)
PRO+
Content
Find more PRO+ content and other member only offers, here.