TrueCrypt
TrueCrypt is a cross-platform open source program for file and full disk encryption (FDE).
Looking for something else?
TECHNOLOGIES
TrueCrypt is a cross-platform open source program for file and full disk encryption (FDE).
Download: IT Acronyms - A Quick Reference Guide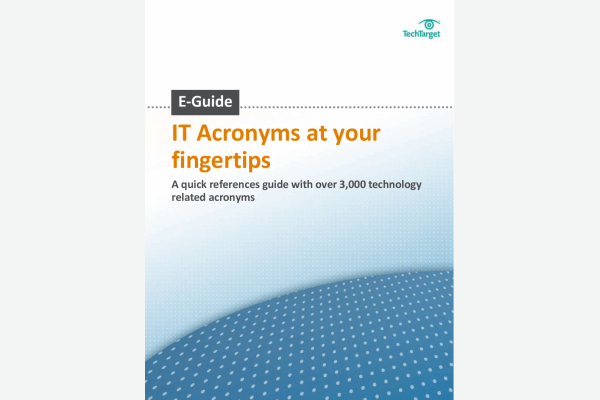 Download this free quick reference guide with over 3,000 IT acronyms; including a special section of the top 15 acronyms you need to know today.
By submitting your personal information, you agree to receive emails regarding relevant products and special offers from TechTarget and its partners. You also agree that your personal information may be transferred and processed in the United States, and that you have read and agree to the Terms of Use and the Privacy Policy.

Initially released in February 2004, the software gained notoriety when it was revealed that Edward Snowden, the former United States government contractor best known for leaking secret documents, recommended TrueCrypt for encryption.
In May 2014, the TrueCrypt website posted an announcement that the program had been retired. The announcement warned that TrueCrypt may contain unfixed security issues and was no longer safe to use following the end of support for Windows XP. The website recommends that users migrate from TrueCrypt to BitLocker and provides step-by-step directions for how to do so.
The last full release of TrueCrypt was in 2012. This release, version 7.1a, allows users to choose from a variety of algorithms including Serpent, AES and Twofish. It also supports hash functions, including Whirlpool, and cascaded algorithms. The encryption itself is handled in real time by a file-system driver so the encryption process remains completely transparent to the end user.
The latest release of TrueCrypt, version 7.2, was issued at the same time the website announced TrueCrypt's retirement. Version 7.2 only provides users with the ability to decrypt previously encrypted volumes; it does not include encryption capabilities. As of this writing, a new group of developers is attempting to fork the software under a new domain and product name.
Continue Reading About TrueCrypt
PRO+
Content
Find more PRO+ content and other member only offers, here.