chaffing and winnowing definition
Chaffing and winnowing are dual components of a privacy-enhancement scheme that does not require encryption. The technique consists of adding false packets to a message at the source (sender end of the circuit), and then removing the false packets at the destination (receiver end). The false packets obscure the intended message and render the transmission unintelligible to anyone except authorized recipients.
Download this guide to become a Web App Security superhero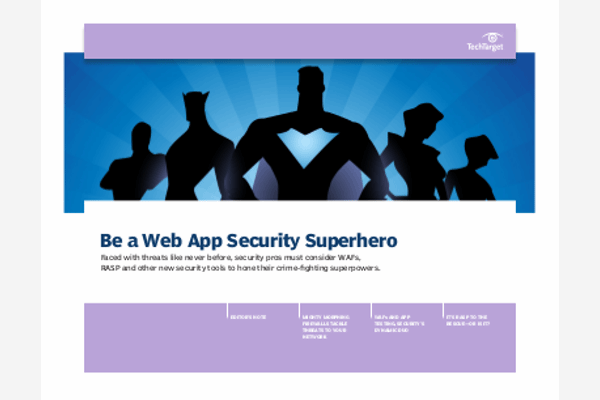 As web apps continue to face advanced attacks, protecting them requires more fine-tuning in order to match your app's distinct characteristics. Take advantage of this three part guide to access best practices for boosting your web defense and learn the latest in how to secure web apps on your enterprise network.
By submitting your email address, you agree to receive emails regarding relevant topic offers from TechTarget and its partners. You can withdraw your consent at any time. Contact TechTarget at 275 Grove Street, Newton, MA.
You also agree that your personal information may be transferred and processed in the United States, and that you have read and agree to the Terms of Use and the Privacy Policy.

At the source, each legitimate message packet is assigned a unique serial number and a message authentication code (MAC). Every serial number and MAC is known to the receiver in advance. Then the bogus packets are added at the source; this is the chaffing process (chaff is the undesirable part of a plant such as wheat that is separated during milling). The chaff packets have the same format as the legitimate ones, and they also have reasonable serial numbers, but they have invalid MACs. It is impossible to tell the difference between the legitimate packets and the chaff except by comparing MACs at the destination.
At the destination, the chaff packets are removed by comparing MACs. This is called winnowing. If an incoming packet has a bogus MAC, it is discarded; if it has a legitimate MAC, it is accepted. Thus, the original message is recovered.
Continue Reading About chaffing and winnowing
Dig Deeper on Email Security Guidelines, Encryption and Appliances
PRO+
Content
Find more PRO+ content and other member only offers, here.