ciphertext feedback (CFB) definition
Also see cryptography.
Download "Taming the beast: Data protection in the digital age & beyond"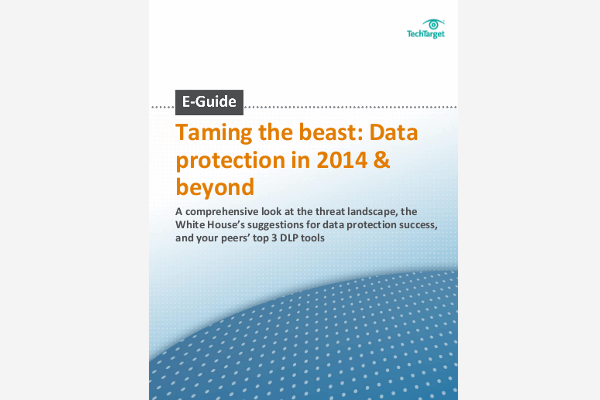 In the wake of massive breaches experienced by retail giants like Target, Home Depot and Neiman Marcus, don't miss out on this e-guide that provides a comprehensive look at the threat landscape, suggestions for data protection success from the White House, and the top 3 data loss prevention tools ranked by your peers.
By submitting your email address, you agree to receive emails regarding relevant topic offers from TechTarget and its partners. You can withdraw your consent at any time. Contact TechTarget at 275 Grove Street, Newton, MA.
You also agree that your personal information may be transferred and processed in the United States, and that you have read and agree to the Terms of Use and the Privacy Policy.

Ciphertext feedback (CFB) is a mode of operation for a block cipher. In contrast to the cipher block chaining (CBC) mode, which encrypts a set number of bits of plaintext at a time, it is at times desirable to encrypt and transfer some plaintext values instantly one at a time, for which ciphertext feedback is a method. Like cipher block chaining, ciphertext feedback also makes use of an initialization vector (IV). CFB uses a block cipher as a component of a random number generator. In CFB mode, the previous ciphertext block is encrypted and the output is XORed (see XOR) with the current plaintext block to create the current ciphertext block. The XOR operation conceals plaintext patterns. Plaintext cannot be directly worked on unless there is retrieval of blocks from either the beginning or end of the ciphertext.
The entropy that results can be implemented as a stream cipher. In fact, CFB is primarily a mode to derive some characteristics of a stream cipher from a block cipher. In common with CBC mode, changing the IV to the same plaintext block results in different output. Though the IV need not be secret, some applications would see this desirable. Chaining dependencies are similar to CBC, in that reordering ciphertext block sequences alters decryption output, as decryption of one block depends on the decryption of the preceding blocks.
Continue Reading About ciphertext feedback (CFB)
Dig Deeper on Disk Encryption and File Encryption
PRO+
Content
Find more PRO+ content and other member only offers, here.