Are You Violating Copyright? | Handling of External Links | Work for Hire | Employee Activities
Protecting Your Own Works | How to Stay Legal | Selected Links

Download this free guide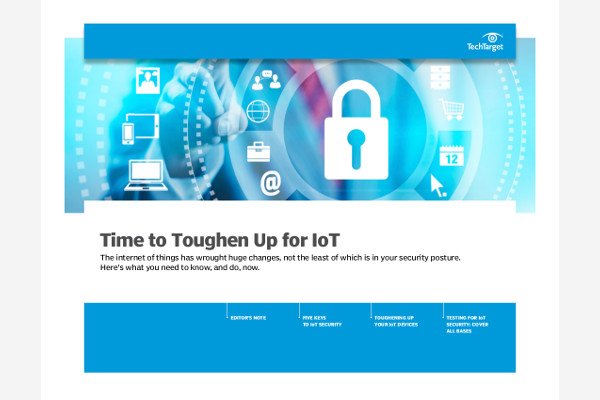 Download: IoT Security Best Practices
For many, security tops the list of IoT challenges. Our new handbook is filled with best practices for IoT security, looking at raising awareness of potential security threats wrought by IoT, how to test your defenses in the IoT era, and more.
By submitting your personal information, you agree that TechTarget and its partners may contact you regarding relevant content, products and special offers.
You also agree that your personal information may be transferred and processed in the United States, and that you have read and agree to the Terms of Use and the Privacy Policy.
Copyright is the ownership of an intellectual property within the limits prescribed by a particular nation's or international law. In the United States, for example, the copyright law provides that the owner of a property has the exclusive right to print, distribute, and copy the work, and permission must be obtained by anyone else to reuse the work in these ways. Copyright is provided automatically to the author of any original work covered by the law as soon as the work is created. The author does not have to formally register the work, although registration makes the copyright more visible. (See Circular 66, "Copyright Registration for Online Works," from the U.S Copyright Office.) Copyright extends to unpublished as well as published works. The U.S. law extends copyright for 50 years beyond the life of the author. For reviews and certain other purposes, the "fair use" of a work, typically a quotation or paragraph, is allowed without permission of the author.
The Free Software Foundation fosters a new concept called copyleft in which anyone can freely reuse a work as long as they in turn do not try to restrict others from using their reuse.
EditPros, an editing and marketing communications firm, has allowed us to reprint below an article about copyright as it applies to the Internet.
Are You Violating Copyright on the Internet?
The Internet, inarguably one of the most remarkable developments in international communication and information access, is fast becoming a lair of copyright abuse. The notion of freedom of information and the ease of posting, copying and distributing messages on the Internet may have created a false impression that text and graphic materials on World Wide Web sites, postings in "usenet" news groups, and messages distributed through e-mail lists and other electronic channels are exempt from copyright statutes.
In the United States, copyright is a protection provided under title 17 of the U.S. Code, articulated in the 1976 Copyright Act. Copyright of a creative work extends 50 years beyond the lifespan of its author or designer. Works afforded copyright protection include literature, journalistic reports, musical compositions, theatrical scripts, choreography, artistic matter, architectural designs, motion pictures, computer software, multimedia digital creations, and audio and video recordings. Copyright protection encompasses Web page textual content, graphics, design elements, as well as postings on discussion groups. Canada's Intellectual and Industrial Property Law, Great Britain's Copyright, Designs and Patents Act of 1988, and legislation in other countries signatory to the international Berne Convention copyright principles provide similar protections.
Generally speaking, facts may not be copyrighted; but content related to presentation, organization and conclusions derived from facts certainly can be. Never assume that anything is in the "public domain" without a statement to that effect. Here are some copyright issues important to companies, organizations and individuals.
Handling of External Links
Even though links are addresses and are not subject to copyright regulations, problems can arise in their presentation. If your Web site is composed using frames, and linked sites appear as a window within your frame set, you may be creating the deceptive impression that the content of the linked site is yours. Use HTML coding to ensure that linked external sites appear in their own window, clearly distinct from your site. Incidentally, you may wish to disavow responsibility for the content of sites to which you provide links.
Work for Hire
While copyright ordinarily belongs to the author, copyright ownership of works for hire belong to the employer. The U.S. Copyright Act of 1976 provides two definitions of a work for hire: 1. a work prepared by an employee within the scope of his or her employment; or 2. a work specially ordered or commissioned for use as a contribution to a collective work, as a part of a motion picture or other audiovisual work, as a translation, as a supplementary work, as a compilation, as an instructional text, as a test, as answer material for a test, or as an atlas, if the parties expressly agree in a written instrument signed by them that the work shall be considered a work made for hire. U.S. Copyright Office documentation further states, "Copyright in each separate contribution to a periodical or other collective work is distinct from copyright in the collective work as a whole and vests initially with the author of the contribution."
Employee Activities
Just as making bootleg tapes of recorded music and photocopying books are illegal activities, printing and distributing contents of Web pages or discussion group postings may constitute copyright infringement. And companies may be liable for such activities conducted by their employees using company computing or photocopying equipment. However, the law does not necessarily prohibit downloading files or excerpting and quoting materials. The doctrine of fair use preserves your right to reproduce works or portions of works for certain purposes, notably education, analysis and criticism, parody, research and journalistic reporting. The amount of the work excerpted and the implications of your use on the marketability or value of the works are considerations in determining fair use. Works that are not fixed in a tangible form, such as extemporaneous speeches, do not qualify for copyright protection. Titles of works, and improvisational musical or choreographic compositions that have not been annotated, likewise cannot be copyrighted. Names of musical groups, slogans and short phrases may gain protection as trademarks when registered through the U.S. Patent & Trademark Office.
Protecting Your Own Works
Although copyright automatically applies to any creative work you produce, you can strengthen your legal copyright protection by registering works with the U.S. Copyright Office. Doing so establishes an official record of your copyright, and must be done before filing an infringement civil lawsuit in Federal district court. Registration costs $20. For information, visit the Copyright Office Web site or call (202) 707-3000; TTY is (202) 707-6737.
If you appoint an independent Web developer to create and maintain your Web site, make sure through written agreement that you retain the copyright to your Web content.
Place a copyright notice on each of your Web pages and other published materials. Spell out the word "Copyright" or use the encircled "c" symbol, along with the year of publication and your name, as shown in this example:
Copyright 1998 EditPros marketing communications If you're concerned about copyright protection in other nations, add: "All rights reserved."

Along with your copyright notice, include an acceptable use policy, announcing to your readers how they may use the material. You may allow Web visitors, for example, to download and print pages for their own use, but may prohibit them from distributing those materials to others without your permission. You may wish to decline permission to download graphics or sound files that you created.
How to Stay Legal
If you'd like to share the contents of an interesting Web page with your company employees, describe the page and tell them the URL address of the Web site so they can look for themselves. And if the latest edition of a business newspaper contains an article you'd like to distribute to your 12 board members, either ask the publication for permission to make copies, or buy a dozen copies of the newspaper. Retention of value through sales of that newspaper, after all, is what copyright law is intended to protect.
Selected Links

The United States Copyright Office contains an explanation of American copyright basics and a list of frequently asked questions, as well as the complete text of the United States Copyright Act of 1976. Topics include copyright ownership and transfer, copyright notice, and copyright infringement and remedies. The site is maintained by the U.S. Library of Congress.



The Copyright Clearance Center is an online resource operated by the Copyright Clearance Center Inc. (CCC), which was formed in 1978 as a not-for-profit organization to induce compliance with the U.S. copyright law. CCC, based in Danvers, MA, provides licensing systems for reproduction and distribution of copyrighted materials throughout the world.



Circular 66 from the U. S. Copyright Office explains Copyright Registration for Online Works.
---
Most of the material in this definition/topic was reprinted from an EditPros newsletter with their permission. EditPros is a writing, editing, and publishing management firm in Davis, California with their own Web site.
Dig Deeper on Information security laws, investigations and ethics
PRO+
Content
Find more PRO+ content and other member only offers, here.