Cybercrime is a term for any illegal activity that uses a computer as its primary means of commission. The U.S. Department of Justice expands the definition of cybercrime to include any illegal activity that uses a computer for the storage of evidence.
Download this guide to become a Web App Security superhero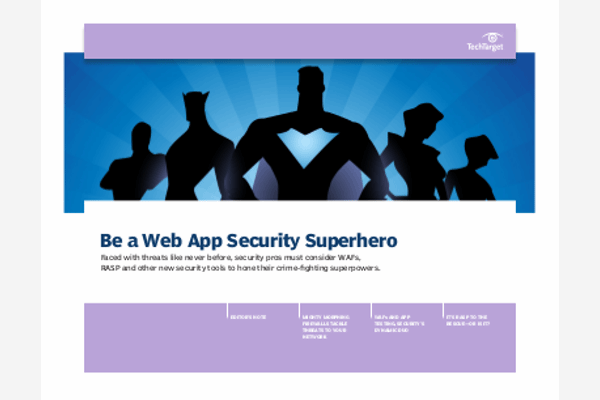 As web apps continue to face advanced attacks, protecting them requires more fine-tuning in order to match your app's distinct characteristics. Take advantage of this three part guide to access best practices for boosting your web defense and learn the latest in how to secure web apps on your enterprise network.
By submitting your email address, you agree to receive emails regarding relevant topic offers from TechTarget and its partners. You can withdraw your consent at any time. Contact TechTarget at 275 Grove Street, Newton, MA.
You also agree that your personal information may be transferred and processed in the United States, and that you have read and agree to the Terms of Use and the Privacy Policy.

The growing list of cybercrimes includes crimes that have been made possible by computers, such as network intrusions and the dissemination of computer viruses, as well as computer-based variations of existing crimes, such as identity theft, stalking, bullying and terrorism.
There are a number of controversial issues surrounding cybercrime. Opinions differ, for example, as to whether some widespread activities (such as file sharing) should be classified as criminal acts. The U.S. Digital Media Copyright Act (DMCA) of 1998 stipulates that exchanging files of copyrighted material, such as music or videos, is illegal and punishable by law. In August, 2002, the U.S. Department of Justice announced that they would begin to prosecute cases of peer-to-peer piracy. Since that time, there have been sporadic suits brought against individuals. Such prosecutions please many in the entertainment industries but are less popular with the general public. Gary Shapiro, president of the Consumer Electronics Association, has remarked that "If we have 70 million people in the United States who are breaking the law, we have a big issue."
Another controversy related to cybercrime is the issue of digital surveillance and its impact on civil liberties. Since the terrorist attacks on the World Trade Center in September 2001, many have deemed it necessary to curtail some individual rights to privacy of information in exchange for greater security. According to the American Civil Liberties Union (ACLU), government surveillance networks monitor enormous volumes of private communications and apply artificial intelligence (AI) applications to filter out relevant data. Although such extensive surveillance might significantly decrease the possibility of cybercrime, it is nearly impossible to do so without infringing upon individual privacy. Furthermore, because surveillance organizations operate in secret, they are not open to scrutiny. The ACLU suggests that while surveillance can be effectively used to curtail cybercrime, it must be properly overseen to ensure that it is not at the cost of individual rights.
Dig Deeper on Hacker Tools and Techniques: Underground Sites and Hacking Groups
PRO+
Content
Find more PRO+ content and other member only offers, here.