defense in depth definition
Defense in depth is the coordinated use of multiple security countermeasures to protect the integrity of the information assets in an enterprise. The strategy is based on the military principle that it is more difficult for an enemy to defeat a complex and multi-layered defense system than to penetrate a single barrier.
Network Security Visibility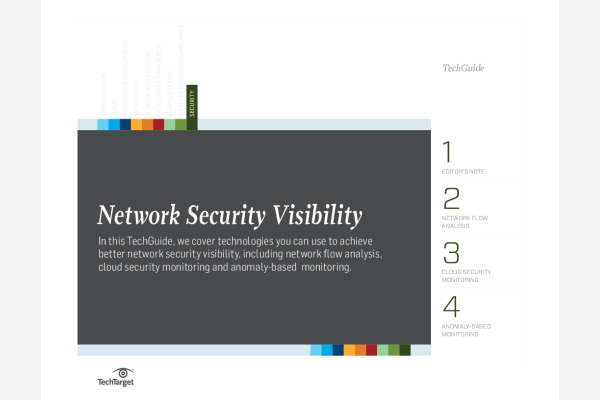 Ensuring comprehensive network security visibility is no easy task. Uncover expert tips on how to improve network security visibility with network flow analysis tools, cloud security monitoring solutions, and anomaly-based monitoring technology.
By submitting your email address, you agree to receive emails regarding relevant topic offers from TechTarget and its partners. You can withdraw your consent at any time. Contact TechTarget at 275 Grove Street, Newton, MA.
You also agree that your personal information may be transferred and processed in the United States, and that you have read and agree to the Terms of Use and the Privacy Policy.

Defense in depth minimizes the probability that the efforts of malicious hackers will succeed. A well-designed strategy of this kind can also help system administrators and security personnel identify people who attempt to compromise a computer, server, proprietary network or ISP (Internet service provider). If a hacker gains access to a system, defense in depth minimizes the adverse impact and gives administrators and engineers time to deploy new or updated countermeasures to prevent recurrence.
Components of defense in depth include antivirus software, firewalls, anti-spyware programs, hierarchical passwords, intrusion detection and biometric verification. In addition to electronic countermeasures, physical protection of business sites along with comprehensive and ongoing personnel training enhances the security of vital data against compromise, theft or destruction.
Continue Reading About defense in depth
PRO+
Content
Find more PRO+ content and other member only offers, here.