digital certificate definition
A digital certificate is an electronic "passport" that allows a person, computer or organization to exchange information securely over the Internet using the public key infrastructure (PKI). A digital certificate may also be referred to as a public key certificate.
Download this guide to become a Web App Security superhero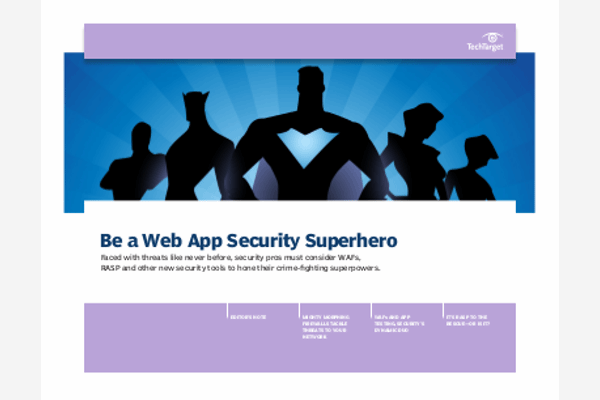 As web apps continue to face advanced attacks, protecting them requires more fine-tuning in order to match your app's distinct characteristics. Take advantage of this three part guide to access best practices for boosting your web defense and learn the latest in how to secure web apps on your enterprise network.
By submitting your email address, you agree to receive emails regarding relevant topic offers from TechTarget and its partners. You can withdraw your consent at any time. Contact TechTarget at 275 Grove Street, Newton, MA.
You also agree that your personal information may be transferred and processed in the United States, and that you have read and agree to the Terms of Use and the Privacy Policy.

Just like a passport, a digital certificate provides identifying information, is forgery resistant and can be verified because it was issued by an official, trusted agency. The certificate contains the name of the certificate holder, a serial number, expiration dates, a copy of the certificate holder's public key (used for encrypting messages and digital signatures) and the digital signature of the certificate-issuing authority (CA) so that a recipient can verify that the certificate is real.
To provide evidence that a certificate is genuine and valid, it is digitally signed by a root certificate belonging to a trusted certificate authority. Operating systems and browsers maintain lists of trusted CA root certificates so they can easily verify certificates that the CAs have issued and signed. When PKI is deployed internally, digital certificates can be self-signed.
Many digital certificates conform to the X.509 standard.
Continue Reading About digital certificate
Dig Deeper on PKI and Digital Certificates
PRO+
Content
Find more PRO+ content and other member only offers, here.
Margaret Rouse asks:

To what extent does your organization rely on self-signed digital certificates?