1) In the study of DNA, footprinting is the method used to identify the nucleic acid sequence that binds with proteins.
Download this guide to become a Web App Security superhero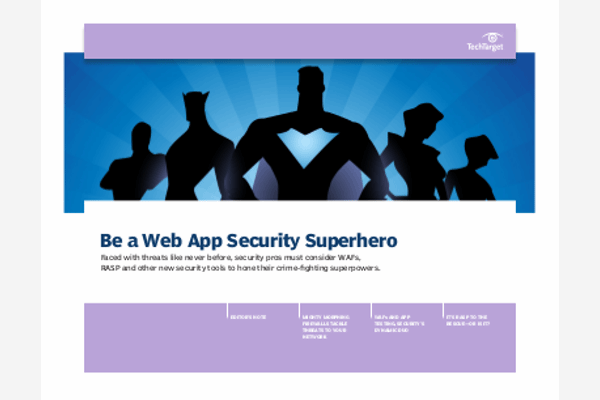 As web apps continue to face advanced attacks, protecting them requires more fine-tuning in order to match your app's distinct characteristics. Take advantage of this three part guide to access best practices for boosting your web defense and learn the latest in how to secure web apps on your enterprise network.
By submitting your email address, you agree to receive emails regarding relevant topic offers from TechTarget and its partners. You can withdraw your consent at any time. Contact TechTarget at 275 Grove Street, Newton, MA.
You also agree that your personal information may be transferred and processed in the United States, and that you have read and agree to the Terms of Use and the Privacy Policy.

2) In computers, footprinting is the process of accumulating data regarding a specific network environment, usually for the purpose of finding ways to intrude into the environment. Footprinting can reveal system vulnerabilities and improve the ease with which they can be exploited.
Footprinting begins by determining the location and objective of an intrusion. Once this is known, specific information about the organization is gathered using non-intrusive methods. For example, the organization's own Web page may provide a personnel directory or employee bios, which may prove useful if the hacker needs to use social engineering to reach the objective. Conducting a whois query on the Web provides the domain names and associated networks related to a specific organization.
Other information obtained may include learning the Internet technologies being used; the operating system and hardware being used; IP addresses; e-mail addresses and phone numbers; and policies and procedures.
Continue Reading About footprinting
Dig Deeper on Hacker Tools and Techniques: Underground Sites and Hacking Groups
PRO+
Content
Find more PRO+ content and other member only offers, here.