promiscuous mode definition
1) In a network, promiscuous mode allows a network device to intercept and read each network packet that arrives in its entirety. This mode of operation is sometimes given to a network snoop server that captures and saves all packets for analysis (for example, for monitoring network usage).
Network Security Visibility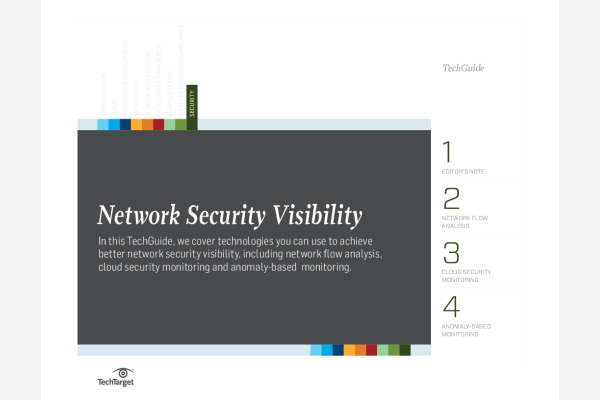 Ensuring comprehensive network security visibility is no easy task. Uncover expert tips on how to improve network security visibility with network flow analysis tools, cloud security monitoring solutions, and anomaly-based monitoring technology.
By submitting your email address, you agree to receive emails regarding relevant topic offers from TechTarget and its partners. You can withdraw your consent at any time. Contact TechTarget at 275 Grove Street, Newton, MA.
You also agree that your personal information may be transferred and processed in the United States, and that you have read and agree to the Terms of Use and the Privacy Policy.

2) In an Ethernet local area network (LAN), promiscuous mode is a mode of operation in which every data packet transmitted can be received and read by a network adapter. Promiscuous mode must be supported by each network adapter as well as by the input/output driver in the host operating system. Promiscuous mode is often used to monitor network activity.
Promiscuous mode is the opposite of non-promiscuous mode. When a data packet is transmitted in non-promiscuous mode, all the LAN devices "listen to" the data to determine if the network address included in the data packet is theirs. If it isn't, the data packet is passed onto the next LAN device until the device with the correct network address is reached. That device then receives and reads the data.
PRO+
Content
Find more PRO+ content and other member only offers, here.