Get started
Bring yourself up to speed with our introductory content.
Mobile endpoint security: What enterprise InfoSec pros must know now
Mobile devices have flooded the enterprise and now mobile endpoint security is a key part of every InfoSec pro's job. Read this guide and rise to the security challenge.
Introduction
Employees are not going to stop bringing their own devices to work, and so BYOD security is going to continue as a key part of the security professional's job description. Not only must corporate data and networks be protected from hackers targeting enterprise systems; mobile endpoints now, too, must be defended. There's nothing obvious or easy about the mobile endpoint security challenge. The BYOD era has multiplied the attack surface for hackers while the IT department's control over the endpoints is not likely to become any easier. This guide looks at all aspects of the mobile challenge and offers up various approaches IT pros can take, from strategy to tools and training, and also outlines the newest challenges already on the mobile device security horizon.
1

Strategy

-
Start with a mobile endpoint security strategy
Any effective mobile endpoint security program must start with a strategy. The number and types of mobile devices employees bring to the enterprise has been increasing exponentially and without a good plan in place, ensuring enterprise security is just not possible. The articles listed here will help you create a comprehensive and clear strategy that takes into consideration the risks employee- and company-owned mobile devices present to sensitive corporate assets.
2

Tools and training

-
The tools to battle the threats that mobile endpoints invite
When the mobile era dawned, so did the new age of mobile security threats. But with the proper tools and training, enterprise assets can be defended. Here's your guide to what tools exist and what training enterprise employees need to help keep company data and networks secure.

Download this free guide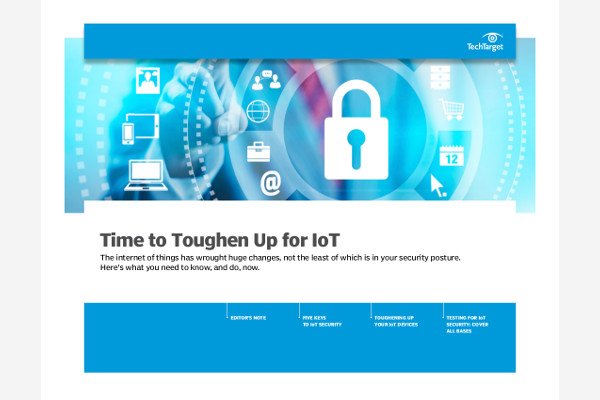 Download: IoT Security Best Practices
For many, security tops the list of IoT challenges. Our new handbook is filled with best practices for IoT security, looking at raising awareness of potential security threats wrought by IoT, how to test your defenses in the IoT era, and more.
By submitting your personal information, you agree that TechTarget and its partners may contact you regarding relevant content, products and special offers.
You also agree that your personal information may be transferred and processed in the United States, and that you have read and agree to the Terms of Use and the Privacy Policy.
3

Endpoints

-
Focusing on the endpoints themselves is a crucial security step
Strategy, policy, training and tools are all must-haves. But to achieve true enterprise security in the mobile age requires spending time and effort focusing on the endpoints themselves. Here are some things to consider.
News

Experts say unified endpoint management for mobile devices, laptops and desktops will take more time due to the complex, evolving demands of mobile security management. Continue Reading
Tip
Trying to secure every employee's smartphone and tablet is impossible. Focus on securing data, which is less tedious and more beneficial, anyway. Continue Reading
Tip
Remote data wipe is key to any BYOD security policy, but each OS handles it differently. Lisa Phifer covers how to use it with other controls to protect data. Continue Reading
4

New issues

-
The new issues emerging for mobile endpoint security
Every season seems to bring with it a new type of tablet, phone or other digital device. And with the latest cyber toys come new cyber threats. As the saying goes, the only constant is change -- so true, when it comes to mobile device security. So read up on the latest round of changing security concerns for mobile endpoints, and what can be done about them.
5

Multimedia

-
Learn even more about mobile device threats and defense
These presentations round out our guide and fill you in on what the security landscape looks like when it comes to the threats involving mobile devices. Listen to the words of wisdom from these three experts in the field to supplement your new knowledge about mobile device security.
Video
Monitoring for malware isn't enough. Enterprise IT pros must evolve their security strategy in the mobile era, because you can bet attackers will.
Video
At RSA 2015, Appthority president and co-founder Domingo Guerra outlines emerging mobile security risks enterprises must be aware of -- and the issues aren't limited to just bring your own devices (BYOD).
Video
Video: KPMG's Ronald Plesco discusses the main emerging security trends -- security analytics, the Internet of Things and virtualization -- and what else is on the horizon for the industry.
6

Terms to know

-
Glossary
Part of keeping up with developments in mobile endpoint security, and the security field in general, is keeping up with the terminology. In this module we've gathered definitions to the key terms in this ever-changing industry.