A certain amount of polish
Looking for something else?
Although this may at first sound like an unnecessary characteristic of an information security manager, it can be very important when it comes to dealings with both top management and representatives from external organizations. Just as we judge a book by its cover, the information security manager will be judged adversely if he or she does not pay attention to personal grooming, does not take care to dress professionally, and/or does not conduct him- or herself in a professional manner. The information security manager is an important spokesperson who will be a role model and focal point for many people. This person needs to inspire respect and admiration. If the information security manager is disorganized, unfocused, slovenly and poorly spoken, then people will discount what he or she says, and the projects that he or she promotes will fall on deaf ears. To even mention this point may seem to be an unwarranted emphasis on external appearance and behavior, but this is the way that the world works, and organizations that ignore it do so at their own peril.

INFORMATION SECURITY MANAGER QUALIFICATIONS

Introduction
Excellent communication skills
Good relationship management skills
Ability to manage many important projects simultaneously
Ability to resolve conflicts between security and business objectives
Ability to see the big picture
Basic familiarity with information security technology
Real world hands-on experience
Commitment to staying on top of the technology
Honesty and high-integrity character
Familiarity with information security management
Tolerance for ambiguity and uncertainty
Demonstrated good judgement
Ability to work independently
A certain amount of polish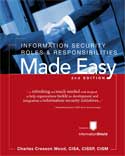 Information Security Roles and Responsibilities Made Easy, Version 2
By Charles Cresson Wood
278 pages; $495
Published by Information Shield

Download Appendix B, Personal Qualifications
Dig Deeper on Information security policies, procedures and guidelines
PRO+
Content
Find more PRO+ content and other member only offers, here.