Manage
Learn to apply best practices and optimize your operations.
Ability to manage many important projects simultaneously
Looking for something else?
The information security manager must be an excellent project manager, and must be familiar with modern project management tools and techniques. Many information security projects are complex, have a long time horizon and depend on the participation of a wide variety of people. The successful manager must be able to delegate work to, and later manage, people outside an information security group (these people will typically include consultants and contractors). In an increasing majority of cases, the pressing information security projects that most organizations need to complete simply cannot be accomplished with the limited information security staff on hand. At the same time, the manager must stay on top of these projects, paying attention to details and making sure that progress proceeds as top management intended. The successful manager must also be able to put together organization- wide status reports that clearly show trends, problems and areas in need of top management intervention. Separately, the information security manager often has a dotted-line reporting relationship with a variety of staff that have information security related jobs (systems developers, systems administrators, etc.). The manager is thus indirectly responsible for obtaining results, but often not in a position where he or she can force compliance with information security requirements. To get results in this environment, the manager must be a both a diplomat and a politician. An information security manager must thus be a team player, a team builder and a team leader.

INFORMATION SECURITY MANAGER QUALIFICATIONS

Introduction
Excellent communication skills
Good relationship management skills
Ability to manage many important projects simultaneously
Ability to resolve conflicts between security and business objectives
Ability to see the big picture
Basic familiarity with information security technology
Real world hands-on experience
Commitment to staying on top of the technology
Honesty and high-integrity character
Familiarity with information security management
Tolerance for ambiguity and uncertainty
Demonstrated good judgement
Ability to work independently
A certain amount of polish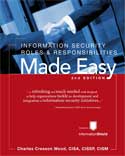 Information Security Roles and Responsibilities Made Easy, Version 2
By Charles Cresson Wood
278 pages; $495
Published by Information Shield

Download Appendix B, Personal Qualifications
Dig Deeper on Information security policies, procedures and guidelines
PRO+
Content
Find more PRO+ content and other member only offers, here.