Basic familiarity with information security technology
Looking for something else?
The information security manager must be knowledgeable in information security technical areas such as encryption, smart cards and system access control. Not only must the manager not be duped by technical specialists, he or she must know the best technology to apply in response to an organization's information security needs. Without this knowledge the manager will lose credibility, and thereby jeopardize current and future information security initiatives. Generally a manager will not have the luxury of learning a great deal about information security technology on the job, so organizations should not hire an inexperienced person and expect that they will be able to pick up the technology as they go along. Familiarity with the technology does not mean that an information security manager is expected to personally get involved in highly-technical work, for example program a digital certificate user authentication system, but it does mean that the manager would know when such a technology should be used. In general, a successful information security manager must be familiar with the methods used, the processes employed and the business reasons cited to justify information security measures. The successful manager should also be familiar with the successful ways to enforce information security requirements with what is often an uncooperative end-user population.

INFORMATION SECURITY MANAGER QUALIFICATIONS

Introduction
Excellent communication skills
Good relationship management skills
Ability to manage many important projects simultaneously
Ability to resolve conflicts between security and business objectives
Ability to see the big picture
Basic familiarity with information security technology
Real world hands-on experience
Commitment to staying on top of the technology
Honesty and high-integrity character
Familiarity with information security management
Tolerance for ambiguity and uncertainty
Demonstrated good judgement
Ability to work independently
A certain amount of polish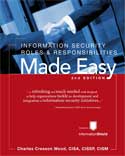 Information Security Roles and Responsibilities Made Easy, Version 2
By Charles Cresson Wood
278 pages; $495
Published by Information Shield

Download Appendix B, Personal Qualifications
Dig Deeper on Information security policies, procedures and guidelines
PRO+
Content
Find more PRO+ content and other member only offers, here.