Good relationship management skills
This Article Covers
RELATED TOPICS
Looking for something else?
TECHNOLOGIES
In order to get anything done, an information security manager is going to need to work with and through a lot
of people. If the manager is strictly a work-alone technical type, he or she is going to have a lot of trouble in a position as information security manager. The information security manager in most organizations does not have the power that goes along with a top management spot, where he or she could simply order others to follow policies, standards and other information security requirements. Instead, acting in a staff advisory role, the information security manager must convince and persuade others to follow these same requirements. In this same regard, many people talk about the manager's role as a salesperson, selling information security. Some people think it's even more difficult, something akin to converting other people to a new religion. Whatever metaphor you prefer, it's clear that an information security manager must have superior people skills, must know how to maintain good working relationships with a wide variety of people, and must be able to maintain the trust and support of these same people.
INFORMATION SECURITY MANAGER QUALIFICATIONS
Good relationship management skills
---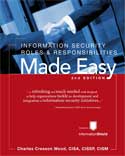 Information Security Roles and Responsibilities Made Easy, Version 2
By Charles Cresson Wood
278 pages; $495
Published by Information Shield

Download Appendix B, Personal Qualifications
Dig deeper on Information Security Jobs and Training