Readers vote on the best business-grade desktop and server antivirus and antispyware products.
ESET NOD32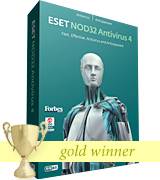 ESET
Whoever believes commoditization drained innovation and competition from the enterprise antimalware market clearly hasn't been paying attention to ESET. After not placing in last year's survey results, the Slovakian firm and its NOD32 Antivirus product leapfrogged its way to the top the 2011 Readers' Choice Awards. Yet don't confuse ESET with an upstart: The 20-year-old company has had an American presence in San Diego for years.
NOD32 Antivirus offers protection from malware, email and Internet traffic scanning, and proactive threat detection. Information Security readers lauded the product for the frequency and speed of its signature updates, as well as for its ease of installation and management, effectiveness in detecting, blocking and cleaning up malware, and its alerting and reporting capabilities. In highlighting what differentiates NOD32 from competitors, ESET points to its Smart Scanner technology, which inspects SSL-encrypted communication channels like HTTPS and POP3S, and intelligently scans compressed files to find hidden threats. The company also touts the product's automatic removable media scanning, support for a variety of enterprise email clients, and special mechanisms to guard against malicious corruption or disabling.
Expert's market reflection:
"Large antimalware organizations can increasingly differentiate based on robust research arms with visibility into huge numbers of endpoints. They can leverage those resources to gather much more 'context' around potential threats in real time to get ahead of increasingly successful attackers. The proliferation of mobile devices used in the enterprise will likely further this trend."
— Paula Musich, senior analyst, Current Analysis

Trend Micro OfficeScan
Trend Micro
Trend Micro OfficeScan drew high marks from readers on the frequency and speed of signature updates as well as for its reporting and alerting capabilities. The latest release of OfficeScan includes new desktop virtualization capabilities. It recognizes whether an agent is on a physical or virtual desktop and provides appropriate protections. It also offers virtual patching functionality via an IDS plug-in to counter zero-day threats. Trend Micro also touts OfficeScan's file and Web reputation features.

McAfee Total Protection for Endpoint – Enterprise Edition
McAfee
McAfee Total Protection for Endpoint was lauded for its effectiveness in detecting, blocking and removing malware, as well as for its ease of installation, configuration and management. The enterprise edition of the product is a mix of malware protection, email and Web security capabilities, host-based intrusion prevention, desktop firewall and device control. It also integrates with McAfee ePolicy Orchestrator providing the management console visibility into security events. The product supports a range of platforms, including Linux, MacOS and mobile devices.