Readers vote on the best identity and access management products, including user identity access privilege and authorization management, single sign-on, user identity provisioning.
Novell Identity Manager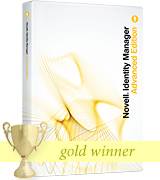 Novell
Novell Identity Manager handily beat out its competitors, earning the gold medal. The software manages identity across virtual, physical and cloud environments, and provides policy-driven control of access to applications. The product received high scores from readers for its ease of use and ability to integrate with user directories and other information databases.
The software comes with out-of-the-box drivers to integrate with widely used enterprise systems, and has built-in support to extend access management policies to SaaS applications. It integrates with most third-party security information and event management (SIEM) systems. Activity reports provide views of user data, activities and application access states.
Identity Manager also won high marks for its ability to scale and its service and support. Novell says its architecture is built for real-time response; It can provision and deprovision identities instantly to prevent internal threats. A new feature called fan-out drivers, added this year, provides the ability to manage access to dozens of similar systems by making them one system. The feature is designed to make it easier to update access across enterprise applications and multiple drivers for each application.
Expert's market reflection:
"The state of identity and access management is in flux for two reasons. One is the movement towards cloud-based identity architectures, and the other is the commercialization of IT, which is forcing device-anywhere access."
— Mark Diodati, research vice president, Gartner

RSA Access Manager
RSA
RSA Access Manager offers centralized management of authentication policies for a variety of applications. Users said that while RSA Access Manager is not the least expensive solution, once configured, the platform is reliable and easy to manage. Survey respondents gave the software high marks for being compatible with a wide range of platforms and applications as well as its integration with a variety of directories and employee information stores. User access can be managed with single sign-on (SSO). RSA Access Manager also received high marks for end-user transparency and ease of use.

CA Identity Manager
CA
CA touts its Identity Manager as being a highly scalable and configurable management foundation to organize identity information and the message rang true among survey respondents. Users called the product pricy, but said their investment paid off because the platform delivered scalability and ease in connecting to various user data stores. The platform uses connectors to various user silos to make it easy to manage user access based on roles and policies. CA says its graphical workflow editor makes the product easily customizable without sophisticated coding knowledge.