Readers vote on the best mobile data security products, including hardware- and software-based file and full disk laptop encryption and removable storage device protection.
Symantec Endpoint Encryption Removable Storage Edition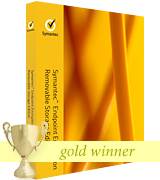 Symantec
Symantec Endpoint Encryption Removable Storage Edition, formerly Symantec PGP Portable, provides policy-controlled encryption of data on removable media and has features that can protect enterprises if a device is lost or stolen.
The product received high marks from readers for its granularity and flexibility when it comes to managing policy controls. The software integrates policies with Symantec Endpoint DLP for content-based encryption of removable storage. Readers also liked the software's centralized management console and it's ability to centralize key management for encryption. The centralized management console supports role-based policy administration and has auditing and reporting capabilities.
Readers praised the product's centralized management functionality for supporting an extensive list of devices and media, including external hard drives, flash drives, CD/DVD media, floppy drives and flash memory modules. Overall, readers rated Symantec Endpoint Encryption Removable Storage Edition highly across the board; the only area where its ratings slip a bit was data and malware protection.
Symantec acquired encryption vendor PGP in April 2010, and users have reported that the integration has been smooth.
Expert's market reflection:
"Vendors are adding strong encryption capabilities and building out key management features that make the encryption and decryption process much easier. The products available today are becoming more robust and more mature as each vendor either builds out a new set of capabilities to address the unique mobile environment, or acquires technology to address customer demands."
— Pete Lindstrom, research director, Spire Security

McAfee Mobile Security for Enterprise
McAfee
The goal of McAfee's Mobile Security for Enterprise is to prevent unauthorized access to important business information. The software scans email, instant-message attachments, downloads, SMS and MMS messages for malware. It can also inspect WiFi and Bluetooth transfers for threats. The software is tailored for Windows Mobile devices. Survey respondents gave the McAfee software high marks for its centralized management and flexible policy controls. Some said it was relatively inexpensive compared to its peers and easy to maintain with automated updates that require little intervention.

CheckPoint Pointsec Mobile
CheckPoint
Check Point's Pointsec Mobile provides encryption of data stored on devices running Symbian, PocketPC, Windows Mobile and Palm platforms. The software encrypts data automatically, enforcing policy without user intervention. Check Point said its software can enable users to transfer encrypted data easily between Pointsec protected devices and other Check Point Endpoint Security clients. The software got high marks for easy installation, configuration and administration; however, some survey respondents said they were considering other products.