Readers vote for the best NAC products, including appliance, software and infrastructure user and device network access policy creation, compliance, enforcement and remediation.
Cisco NAC appliance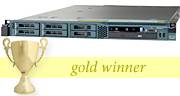 Cisco Systems
The process of deploying network access control (NAC) can be arduous, particularly considering the complexity of today's networks and the sheer number of devices connecting to them. Thus, when a company undertakes a NAC implementation, it's important to know the software will be around long enough to justify the up-front expense, will have a sufficient number of policies to scan for many potential security flaws, and will actually enforce the policies it puts in place. This year's gold medal winner – Cisco's NAC Appliance – scored highly across the board, with a few areas where it received particularly high marks.
Scalability was one of the categories in which the tool was most highly rated, with over two-thirds of respondents giving the product a score of four or five (on a scale of 1 to 5); this bodes well for enterprises looking to grow or expand their NAC coverage over time. Cisco's NAC product also scored highly for the range of policy checks it can perform, its enforcement options for when devices don't meet those policy requirements, and its ability to integrate with existing infrastructure.
Expert's market reflection:
"NAC is in its post-hype era, with stable products but few deployments. There's little agreement on the best approach to solve the problem of few deployments – even on what the problem is."
— Joel Snyder, a senior partner with Opus One

Symantec Network Access Control
Symantec
Taking home this year's silver award for NAC is Symantec's Network Access Control. Users gave the tool above-average marks in nearly all categories, with particularly high numbers for its logging and reporting capabilities – essential for compliance documentation. Readers also noted that the tool integrated easily with existing infrastructure, and is capable of performing a wide range of policy checks, including templates for patch-level, service pack, antivirus and personal firewall status checks, among others.

CheckPoint Endpoint Security
CheckPoint
CheckPoint's Endpoint Security tool rated highly in a number of categories, including its enforcement options, scalability and integration capabilities, earning it this year's bronze award for NAC. Readers also seemed pleased with the range of policy checks the tool can perform, and most users seem to feel they're getting their money's worth, as the product took home high marks for investment ROI. The tool focuses on drilling down to investigate status and apply security policy for each user, no matter which machine they logon to.