Readers vote on the best risk assessment and modeling, and policy creation, monitoring and reporting products and services, IT governance, risk and compliance products, and configuration management products.
McAfee ePolicy Orchestrator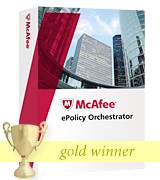 McAfee
Readers awarded McAfee's ePolicy Orchestor with the gold medal for policy and risk management, specifically noting the product's capabilities in the areas of identification of security risks and policy violations, policy management, reporting and alerting and ease of installation. Readers also favored the product's vendor service and support features, as well as its return on investment.
McAfee ePO, which acts as the foundation of the McAfee Security Management Platform, unifies security management, allowing customers to connect industry-leading security solutions to their enterprise infrastructure in order to boost visibility, gain efficiencies and improve protection.
The product offers end-to-end visibility, including drag-and-drop dashboards that provide security intelligence across endpoints, data, mobile and networks, and an open architecture that connects management of both McAfee and third-party security solutions to a customer's LDAP, IT operations and configuration management tools. The product also promises simplified security operations, which allow customers to streamline administrative tasks, ease audit fatigue and reduce security management-related hardware costs.
Expert's market reflection:
"Policy and risk management are relevant to many aspects of an organization, so even in the absence of a single point of pressure – like SOX, for example – there is still room for wider adoption of these products. New competitors continue to enter the market and products in this space are becoming more mature all the time."
-- Christopher McClean, senior analyst, Forrester Research.

Tripwire Enterprise
Tripwire
Tripwire Enterprise for security configuration management, which earned the silver medal from readers, is designed to protect, identify and correct IT configurations with its File Integrity Manager, Compliance Policy Manager and Remediation Manager. The product received high marks across the board, but users seemed especially pleased with its granular and flexible policy management definition capabilities, ease of installation, configuration and administration, and its extensibility and integration capabilities. The product's ability to successfully identify security risks and policy violations, as well as its vendor service and support features were also commended by readers.

RSA Archer eGRC Platform
RSA, the Security Division of EMC
The RSA Archer eGRC Platform, which was awarded the bronze medal by readers, supports business-level management of governance, risk and compliance. The platform allows users to customize the solutions to their requirements, build their own applications and easily integrate with other systems. Readers liked the product's ability to detect security risks as well as policy violations. They also gave it high marks for its flexible policy management definition capabilities, reporting and alerting features, and customer service and support system.