Readers vote on the best remote access products, including IPsec VPN, SSL VPN, and combined systems and products, as well as other remote access products and services.
BIG-IP Edge Gateway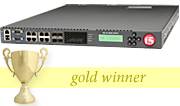 F5 Networks
F5 Networks BIG-IP Edge Gateway brought home the gold this year. Readers gave the appliance high marks for end-user transparency and ease of use. Authentication support was also rated highly by users of the product. Users noted Big-IP Edge Gateway has outstanding gateway functions and is easy to manage and support.
BIG-IP Edge Gateway is an appliance installed at the edge of a network to provide secure connectivity for applications from public networks, internal wireless networks and LANs. It supports up to 600 logins per second and up to 40,000 concurrent user sessions, with up to 8 Gbps of SSL VPN throughput.
Administrators use the GUI-based Visual Policy Editor, included in BIG-IP Edge Gateway, to define access policies based on device types or network types. These access policies are used by the device to check, authenticate and authorize users, in compliance with their organization's policies.
BIG-IP Edge Gateway interacts with authentication, authorization, and accounting (AAA) servers containing user information. Authentication services may include Active Directory, LDAP, RADIUS and native RSA SecurID. AAA server integration and authentication can be easily configured with wizards included with the product.
Expert's market reflection:
"Mobility and virtualization are reshaping the secure remote access market, driving new solutions that enable always-on, location-sensitive access to business services from smartphones and tablets, safeguarding data in ways that no longer assume endpoint ownership or trust."
--Lisa Phifer, president, Core Competence

SonicWALL Secure Remote Access Series
SonicWall Inc.
SonicWALL Secure Remote Access (SRA) series is an SSL VPN product designed for small to medium size businesses. The series includes the SRA 1200 for small businesses, SRA 4200 for mid-sized organizations, and SRA Virtual appliance for organizations of any size. Each model in the series uses a standard Web browser to enable authorized users to securely access email, files, Intranets, Web and network applications and remote desktops. SonicWALL scored well in our survey for ease of installation and configuration, as well as ease of use for end-users.

Juniper SA Series SSL VPN Appliances
Juniper Networks Inc.
The SAS Series of SSL VPN appliances from Juniper Networks include the SA2500 for small to medium size businesses, SA4500 for mid-size to large organizations, and SA6500 for large enterprises and service providers. Each provides secure remote and extranet VPN access from any standard Web browser. There is also a virtual appliance in the SA series, which is designed primarily for service providers. The virtual appliance runs on VMware software and can scale to an unlimited number of customers. Readers were especially pleased with Juniper's authentication support. They also noted that Juniper's SSL VPN appliances are easy to install and maintain.