Readers vote on the best vulnerability management products, including network vulnerability assessment scanners, vulnerability risk management, reporting, remediation and compliance, patch management and vulnerability management lifecycle products.
eEye Retina CS Management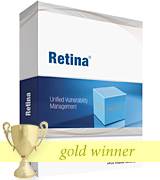 eEye Security
eEye Digital Security's Retina CS Management took home the gold this year, winning high marks from readers for its breadth of applications and devices. The vulnerability management product also scored well for effectively and accurately identifying vulnerabilities in a timely manner and its scalability. Overall, readers said they're getting their money's worth.
The product provides centralized security management that enables IT security managers to view vulnerabilities across all locations and assets. It also features advanced asset correlation, so managers can filter events by date and time ranges, severity and other categories. Retina Insight, the reporting engine, provides security insight, analytics and trending through a dashboard with drilldowns and reports that provide a quick view into compliance, vulnerabilities and attack trends.
Platform independent, Retina CS Management provides a flexible user experience. Other features include executive reporting with visual charts and graphs for quick assessment of an enterprise's vulnerabilities, as well as detailed audit logging of user activity.
Add-on modules for Retina CS Management provide integrated and automated Windows patch management, regulatory reporting and compliance monitoring with industry and internally developed benchmarks.
Expert's market reflection:
"The vulnerability management market is finally evolving from disconnected, find-and-fix tools for scanning and patching to integrated solutions that incorporate inventory, testing, prioritization and risk data so organizations can manage the entire vulnerability life cycle."
— Diana Kelley, partner, SecurityCurve

GFI LanGuard
GFI Software
GFI Software's GFI LanGuard earned the silver, winning high scores from readers for its ease of installation, configuration and management. Readers also liked its comprehensive and flexible reports and remediation/workflow capabilities. GFI LanGuard is a network security and vulnerability scanner that is designed to provide a complete network security overview with minimal administrative effort. Its patch management features also provide remedial action through on-demand or fully automated detection and downloading of missing security patches for Microsoft and other applications. The product helps with network and software auditing, asset inventory, change management, risk analysis and compliance.

McAfee Vulnerability Manager
McAfee
McAfee Vulnerability Manager won the bronze, earning high marks from readers for effectively and accurately identifying vulnerabilities in a timely matter. The product also earned praise for its scalability and comprehensive and flexible reports. McAfee Vulnerability Manager is easy to implement and easily scales to provide insight into vulnerabilities on networks from hundreds to millions of nodes. The product provides a single, correlated view of vulnerabilities and its FoundScore risk formula can help organizations prioritize remediation efforts. Other features include policy auditing and compliance assessments and reporting that categorizes data by asset or network.