Readers vote on the best Authentication products in 2012: Digital identity verification products, services, and management systems, including PKI, hardware and software tokens, smart cards. knowledge-based systems, digital certificates, biometrics, cell phone-based authentication.
Gold: RSA SecurID, RSA Security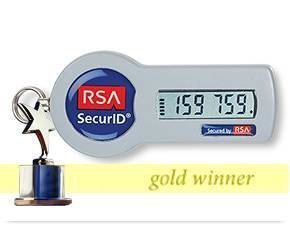 For the third year in a row,
SecurID
, the two-factor authentication product from RSA, the Security Division of EMC, has dominated the authentication category of our annual Readers' Choice Awards. Despite a breach of RSA's systems in March 2011, SecurID has not only held its customers' loyalty, but also steadily remains the choice two-factor authentication solution among readers.
Readers gave SecurID high scores across the board. the product ranked especially high in the areas of ease of use, vendor service and support, and security of credentials against cracking and discovery. Customers had overall positive feedback for the product, calling it reliable and powerful, with most championing its trustworthy security and longevity as the features they appreciate the most.
RSA offers SecurID hardware authenticators as well as software-based two-factor authentication tokens for smartphones, tablets, and PCs. With more and more employees going mobile and bringing in their own devices to work, it's becoming increasingly important to implement a reliable two-factor authentication solution to ensure the security of sensitive company data. For many readers, SecurID has proven to be that secure solution.
Expert's market reflection:"Extended-enterprise imperatives are strongly shaping enterprises' authentication strategies. They need to enable strong authentication for cloud- and mobile-based transactions, and use risk-based authentication as a fraud detection booster shot." --Eve Maler, principal analyst, Forrester
Silver: Symantec VeriSign Authentication Services, Symantec

Moving up from its third place spot in last year's Readers' Choice Awards, Symantec VeriSign Identity Protection Authentication Service won the silver in this year's authentication category. Symantec's cloud-based authentication offering deploys without the use of hardware or software installation, and includes a wide choice of one-time password credentials. These product features have proven appealing to many of our readers, with respondents ranking it high in integration and compatibility as well as scalability. Users generally cited it as a solid, reliable product that fits their company's needs.
Bronze: Entrust IdentityGuard, Entrust

The bronze winner for this year's Readers' Choice Awards in authentication goes to Entrust IdentityGuard. IdentityGuard offers an extensible software authentication platform that allows enterprises to implement a single security framework to protect access from every endpoint –whether physical, mobile or cloud. Respondents ranked it high in integration and compatibility, security of credentials against cracking and discovery, and vendor service and support. Users specifically liked its user-friendly and intuitive nature, and reported a generally glitch-free experience.