Readers vote on the best Endpoint Security products in 2012: Business-grade desktop and server antimalware and endpoint protection suites that include antivirus and antispyware, using signature-, behavior- and anomaly-based detection, whitelisting, host-based intrusion prevention and client firewalls.
Gold: ESET NOD32 Antivirus 4 Business Edition, ESET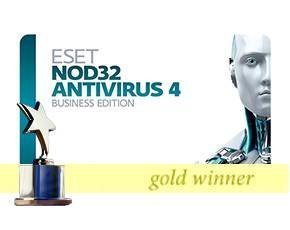 It was a close race for gold in the endpoint security category, but
ESET
NOD32 Antivirus 4 Business Edition pulled ahead with notably higher scores for frequency and speed of signature updates, ability to detect and block unknown malware and zero-day exploits, and return on investment. This is the second year in a row that ESET has received gold in our Readers' Choice awards, proving that the Slovakian firm is a serious endpoint/antimalware contender.
ESET NOD32 Antivirus 4 Business Edition offers protection from malware, email and Internet traffic scanning, and proactive threat detection. ESET differentiates itself with software that runs fast while consuming fewer system resources than other antimalware/endpoint products. Readers backed this up with comments such as "bloat free and easy on system resources," "small footprint," and "runs invisibly."
Readers also pointed out that the software runs well on Macs. According to ESET, the Mac OS X edition of ESET NOD32 is the only anti-malware solution ICSA Labs certified for both Mac and Windows. The software provides protection for cross-platform threats to help prevent Macs from carrying malware that could be passed to other OSes.
Expert's market reflection: "The endpoint protection market is in transition. Signature-based protection mechanisms alone no longer offer sufficient protection. Organizations want converged platforms that offer multiple styles of protection within a single policy management framework, including firewalls, antimalware and encryption as well as application control and device control." -- Neil MacDonald, vice president and distinguished analyst, Gartner
Silver: Kaspersky Open Space Security, Kaspersky Lab

Kaspersky Open Space Security garnered the silver, winning high scores from readers for its effectiveness in detecting, blocking and cleaning up malware. Readers also rated the product highly for ease of installation, configruaion and administration and feel they're getting their money's worth. Kaspersky Open Space Security provides anti-malware protection in a single, integrated suite of applications designed to work seamlessly across all platforms. The product provides a combination of signature-based, proactive and cloud-based protection technologies.
Bronze: Sophos Endpoint Protection, Sophos

Readers awarded the bronze to Sophos Endpoint Protection, giving the product high scores for ease of installation, configuration and administration. They also praised the product's reporting and alerting capabilities and the frequency and speed of its signature updates. Sophos Endpoint Protection provides integrated antivirus, Web security, full-disk encryption, client firewall, application control, device control, and other features. The security functions are managed via one console.