Readers vote on the best Enterprise Firewall products in 2012: Enterprise-caliber network firewall appliances and software, stateful packet filtering firewalls with advanced application layer/protocol filtering. Includes next-generation firewalls.
Gold: Cisco Systems Adaptive Security Appliances, Cisco Systems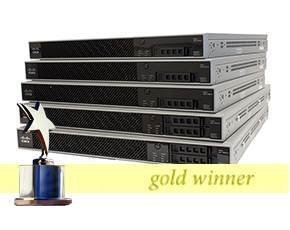 The more things change, the more they stay the same. Multifunction network security appliances like next-generation firewalls and intrusion prevention systems have dramatically altered the face of the enterprise network firewall product landscape, but one of the biggest vendors in the market keeps winning the hearts and minds of enterprise customers.
Using phrases like "a best-of-breed product," "easily configurable," and "rock solid," respondents to Information Security magazine and SearchSecurity.com's 2012 Readers' Choice survey voted Cisco Systems Adaptive Security Appliances 5500 Series as this year's gold winner in the enterprise firewalls category.
The ASA series is a broad line of multifunction network security devices, providing not only comprehensive firewall and IPS capabilities, but also VPN/remote access, unified communications security, content filtering, antimalware, URL filtering and more. Cisco offers models like the ASA 5505 for SMB customers, while the new 40 Gbps top-of-the-line 5585-X is designed for data centers and large enterprises. Readers' Choice survey respondents gave the ASA series its best marks for its ability to block intrusions, attacks and other unauthorized network traffic, as well as vendor service and support.
Expert's market reflection:"Rumors about the death of the firewall are greatly exaggerated, despite debates to the contrary. Interest in next-generation firewall technology has revived the market and helped to propel startup Palo Alto Networks' successful IPO." -- Paula Musich, principal analyst for enterprise security, Current Analysis.
Silver: Barracuda NG Firewall, Barracuda Networks

Grabbing the silver is the NG Firewall from Barracuda Networks. Available in hardware and virtual form factors, the product provides standard network firewall, IPS and VPN capabilities, in addition to application control, AV, antispam, Web filtering and NAC enforcement. New features added this year include an improved GUI and DNS blacklisting, plus support for Xen hypervisors, iOS mobile device VPNs, Border Gateway Protocol, and IPFIX, which enables easier integration with third-party network monitoring platforms.
Bronze: Juniper ISG Series, Juniper Networks

Taking home the bronze is the ISG Series from Juniper Networks. The Integrated Security Gateways offer firewall, VPN, IDS and Web filtering features, with optional IPS and virtual systems support. The base ISG1000 model offers up to 2 Gbps of firewall throughput and support for 10,000 policies, while the high-end ISG2000 offers double the throughput and up to 30,000 policies. Respondents went out of their way to praise the ISG Series' reasonable pricing.