Readers vote on the best Network Access Control products in 2012: Appliance, software and infrastructure user and device network access policy creation, compliance, enforcement (802.1X, client-based, DHCP, etc.) and remediation products.
Gold: Symantec Network Access Control, Symantec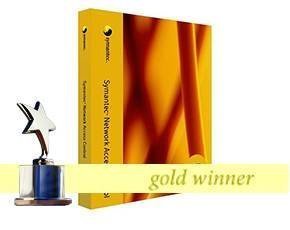 Symantec
Network Access Control garnered the gold, scoring high in a number of categories but most notably in logging and reporting. Readers also liked Symantec Network Access Control's enforcement options, and vendor service and support.
Symantec Network Access Control is designed to control access to corporate networks through integration with existing network infrastructures. The product can discover and evaluate endpoint compliance status, provision the appropriate network access, provide remediation and monitor endpoints for changes. Endpoints can connect to the network using a Symantec Network Access Control Enforcer that integrates directly into the network, a host-only option requiring no network integration or an agent that is integrated into the Web application environment.
The product's architecture consists of three core components: policy management, endpoint evaluation and network enforcement. According to Symantec, these work together as a single product to provide end-to-end network access control. However, Symantec Network Access Control also integrates with other NAC technologies, including those from and Microsoft. Readers praised Symantec Network Access Control in general, commenting that it's easy to use and scalable.
Expert's market reflection: "Many organizations are still thinking about NAC, but vendors are making it easy by offering a wide variety of products and strategies to make integration as simple as possible—for a complex technology." -- Joel Snyder, senior partner, Opus One
Silver: Cisco NAC Appliance, Cisco Systems

Cisco NAC Appliance remains a favorite with readers, who awarded it with the silver medal. The product received high scores in a number of areas, including enforcement options, integration with existing infrastructure and scalability.
Cisco NAC appliance is designed to enable organiztaions to recognize users, their devices and roles in the network, and evaluate whether machines are compliant. It enforces security policies by blocking, isolating and fixing noncompliant systems, and also provides auditing and reporting capabilities.
Bronze: Juniper Networks Unified Access Control, Juniper Networks

Readers gave the bronze to Juniper Networks Unified Access Control, awarding the product high marks for its policy-based network access control, the range of policy checks that can be performed, and scalability. Juniper Networks offers Unified Access Control in three models to meet the needs of different size businesses. The IC4500 Unified Access Control appliance is designed to meet the network needs of midsize to large organizations and remote and branch offices. It scales to support from 25 to 5,000 simultaneous endpoints.