Readers vote on the best Remote Access products in 2012: IPsec VPN, SSL VPN (stand-alone and as part of application acceleration and delivery systems) and combined systems and products, as well as other remote access products and services.
Gold: Juniper Networks SA Series SSL VPN Appliances, Juniper Networks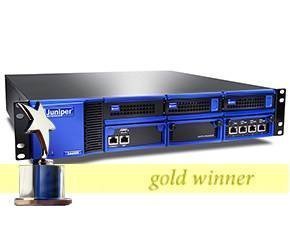 Readers awarded
Juniper Networks
SA Series SSL VPN Appliances with the gold medal for remote access, praising the products' capabilities in the areas of authentication support, ease of installation and configuration, and breadth of applications and devices covered. Readers also highlighted the support they received from the vendor, as well as their return on investment.
The series includes the SA2500 for small to medium-size businesses, SA4500 for midsize to large organizations, and SA6500 for large enterprises and service providers. A single SA6500 device can support up to 10,000 concurrent users with the ability to scale much higher with two- and four-unit clusters. The virtual appliance in the SA series runs on VMware software.
Designed primarily for service providers, it can scale to an unlimited number of customers. The SA Series SSL VPN Appliances provide secure remote access without requiring client software and feature cross-platform support to allow users to access corporate resources from any type of device. Host Checker capabilities scan endpoint to verify compliance with security policies, and single sign-on (SSO) capabilities reduce the need for end users to maintain multiple sets of credentials.
Expert's market reflection: "As business computing shifts from notebook to tablet, so must secure remote access. Increasingly, solutions protect data between consumer-grade devices and public/private cloud applications, independent of location, ownership, or connectivity." -- Lisa Phifer, president, Core Competence
Silver: Citrix Access Gateway. Citrix Systems

Citrix Access Gateway is a secure application access product that can scale to more than 10,000 concurrent users per device. Access Gateway is available as both physical and virtual appliances for more deployment options. Session actions can be limited based on both user identity and the endpoint device, with client maintenance minimized by Web-deployed, auto-updating clients. Access Gateway scored well with readers for the variety of applications and devices covered, as well as authentication support.
Bronze: Check Point Remote Access VPN Software Blade, Check Point Software Technologies

The Check Point Remote Access VPN Software Blade supports full IPsec VPN connectivity and comes with a VPN auto-connect feature that automatically restores lost connections to ensure safe network connectivity. The product is integrated into Check Point's Software Blade Architecture and centrally managed by the Endpoint Policy Management Software Blade, allowing administrators to control all security functions via a single console. Readers enjoyed the ease of use and authentication support provided by the Check Point Remote Access VPN Software Blade.