Readers vote on the best Web Security products in 2012: Software and hardware products, hosted Web services for inbound and outbound content filtering for malware activity detection/prevention, static and dynamic URL filtering and application control (IM, P2P, etc.).
Gold: Check Point Web Security Software Blade, Check Point Software Technologies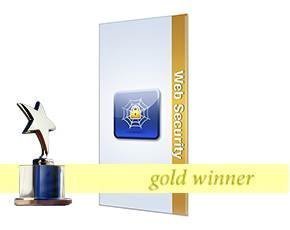 Check Point Web Security Software Blade earned the gold medal among readers this year.
Check Point
says its software blades are designed to be treated like a building block, enabling companies to quickly configure security controls on any gateway or management system.
Information Security
magazine readers gave the Web Security Software Blade high marks for detecting and blocking malware and for its customizable reporting and alerting features.
The software blade is designed to preempt the execution of malicious code and protect against buffer overflow attacks. Check Point says its Malicious Code Protector detects malicious executable code within Web communications by identifying not only its existence within a data stream but its potential for malicious behavior. It operates at the kernel level providing protection that does not compromise performance, and can be configured to provide different levels of control for various Web applications and servers.
The software blade also contains Advanced Streaming Inspection, a Check Point kernel-based technology that processes the overall context of communication. This technology can make real-time security decisions based on session and application information and protects Web communication even when it spans multiple TCP segments.
Expert's market reflection: "Web security products provide lots of opportunities for protection. The market itself is fairly robust. Clients are under attack so there's some obvious need for security given the ambiguity going on at the client level with BYOD, performance issues and so on." --Pete Lindstrom, research director at Spire Security.
Silver: Symantec MessageLabs Web URL Filtering Service, Symantec

Symantec MessageLabs Web URL Filtering Service, now called now Symantec MessageLabs Web Security.cloud is designed to protect against Web-borne threats and enforce Web acceptable use policies with minimal performance issues. Readers liked Symantec's flexible policy creation and configuration. Symantec MessageLabs Web Security.cloud helps protect organizations from Web-borne threats and enables the control, monitoring and enforcement of Web acceptable use policies with minimal latency. Symantec said its Symantec.cloud Email & Web Security Services automatically updates its antimalware capabilities and performs URL filtering policies and Web traffic quota limits to reduce Web misuse and help protect bandwidth.
Bronze: Websense Web Security Gateway, Websense

Websense says its Websense Security Gateways uses the company's Advanced Classification Engine (ACE) to provide real-time analysis of Web pages and active scripts. It uses multiple antimalware engines and contextual reputation analysis. The gateway's policy creation and enforcement capabilities got high marks from readers, as well as its ability to detect known Web-based threats. The gateways provide a threat dashboard with forensic reporting capabilities providing details on who is being attacked, how the attacks operate and where the attacks are destined.