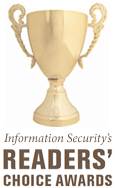 For the sixth consecutive year, Information Security readers voted to determine the best security products. More than 1,500 voters participated this year, rating products in 14 different categories.
Methodology
Respondents were asked to rate only the products in use in their organization, and rate each product based on criteria specific to each category. For each criteria, respondents scored the product on a scale of one (poor) to five (excellent). In addition, each criteria was given a weighted percentage to reflect its importance in that category.
Winners were based on the cumulative weighted responses for each product category criteria. Editors arrived at a product's overall score by calculating the average score it received for each criteria, applying the weighted percentage and adding the adjusted scores.
Readers vote on the best business-grade desktop and server antivirus and antispyware products.
Readers vote on the best digital identity verification products, services, and management systems, including PKI, hardware and software tokens, smart cards.
Readers vote on the best intrusion prevention/detection products, including network-based intrusion detection and prevention appliances, using signature-, behavior-, anomaly- and rate-based detection.
Readers vote on the best identity and access management products, including user identity access privilege and authorization management, single sign-on, user identity provisioning.
Readers vote on the best antispam, antiphishing, email antivirus and antimalware filtering, software and appliance products, as well as hosted "in-the-cloud" email security services.
Readers vote on the best mobile data security products, including hardware- and software-based file and full disk laptop encryption and removable storage device protection.
Readers vote for the best NAC products, including appliance, software and infrastructure user and device network access policy creation, compliance, enforcement and remediation.
Readers vote on the best risk assessment and modeling, and policy creation, monitoring and reporting products and services, IT governance, risk and compliance products, and configuration management products.
Readers vote on the best remote access products, including IPsec VPN, SSL VPN, and combined systems and products, as well as other remote access products and services.
Security information and event management and log management software, appliances and managed services for SMB and enterprise security monitoring, compliance and reporting.
Readers voted on the best unified threat management products, including UTM appliances that feature firewall, VPN, gateway antivirusm URL Web filtering and antispam.
Readers vote on the best vulnerability management products, including network vulnerability assessment scanners, vulnerability risk management, reporting, remediation and compliance, patch management and vulnerability management lifecycle products.
Readers vote on the best standalone Web application firewalls as well as WAFs that are part of application acceleration/delivery systems.
Readers vote on the best Web security products, including software and hardware, hosted Web services for inbound and outbound content filtering for malware activity detection and prevention.