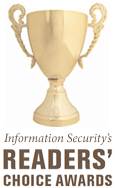 For the sixth consecutive year, Information Security readers voted to determine the best security products. More than 1,500 voters participated this year, rating products in 14 different categories.
Methodology
Respondents were asked to rate only the products in use in their organization, and rate each product based on criteria specific to each category. For each criteria, respondents scored the product on a scale of one (poor) to five (excellent). In addition, each criteria was given a weighted percentage to reflect its importance in that category.
Winners were based on the cumulative weighted responses for each product category criteria. Editors arrived at a product's overall score by calculating the average score it received for each criteria, applying the weighted percentage and adding the adjusted scores.