Evaluate
Weigh the pros and cons of technologies, products and projects you are considering.
Secure Reads: The Network Security Bible
A review of the Network Security Bible by Eric Cole, Ronald Krutz and James W. Conley
Looking for something else?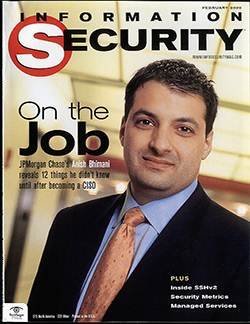 Download
Network Security Bible
By Eric Cole, Ronald Krutz and James W. Conley
696 pages, $39.99

Even the most experienced security professionals occasionally need to turn to their personal libraries for guidance, and everyone needs at least one book that covers a little of everything. We recommend Network Security Bible.

Network Security Bible is more of a reference than a tutorial. Rather than assume the reader's depth of knowledge, it provides just enough relevant background information to lay a foundation of understanding. The title suggests that the book concentrates on the network, but it covers a wide range of subjects, including security management, OS security, cryptography and incident response.

The authors do a fine job of identifying the important points and explaining the key issues. The chapter on Web server security, for example, includes background information on HTTP and how it operates. A good working knowledge of HTTP is important because HTTP influences the treatment of cookies, form fields and other security-related matters.

Despite the book's strong points, Network Security Bible has some notable flaws that prevent it from achieving greatness. There are instances in which an important concept is mentioned but not defined or discussed. This is especially obvious in the Windows security chapter, in which the authors present a list of sometimes-cryptic host-hardening measures without explaining what they mean, their side effects or how to perform them. There are also several instances in which information is duplicated between chapters, or a topic is inexplicably broken up into separate chapters--for instance, the separate chapters on Web browser security and Web server security.

Most noticeably missing is a bibliography. This is a serious omission, given that Network Security Bible is intended to be a foundational security book. The authors give readers no references for learning more about the topics for which they provide limited information.

Network Security Bible is intended to be a "wide angle lens," and makes up in breadth what it lacks in depth. The book covers a variety of topics, and, despite its flaws, the discussions are generally substantive and informative. No matter the question, Network Security Bible will almost certainly have something interesting to say.

Reviewed by David Bianco
Dig Deeper on Information security policies, procedures and guidelines
PRO+
Content
Find more PRO+ content and other member only offers, here.