Biometrics
This is a definition of biometrics by sister site whatis.com.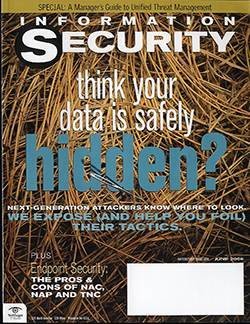 Download
Keep on top of the terms you should know about to keep your company safe and secure. We'll post one new term per...
Continue Reading This Article
Enjoy this article as well as all of our content, including E-Guides, news, tips and more.
By submitting your email address, you agree to receive emails regarding relevant topic offers from TechTarget and its partners. You can withdraw your consent at any time. Contact TechTarget at 275 Grove Street, Newton, MA.
You also agree that your personal information may be transferred and processed in the United States, and that you have read and agree to the Terms of Use and the Privacy Policy.

week from our sister site WhatIs.com. If you have a security term you'd like to see defined, please e-mail us at: editor@searchsecurity.com Biometrics

Biometrics is the science and technology of measuring and statistically analyzing biological data. In information technology, biometrics usually refers to technologies for measuring and analyzing human body characteristics such as fingerprints, eye retinas and irises, voice patterns, facial patterns, and hand measurements, especially for authenticating someone. Often seen in science-fiction action adventure movies, face pattern matchers and body scanners seem about to emerge as replacements for computer passwords.




Fingerprint and other biometric devices consist of a reader or scanning device, software that converts the scanned information into digital form, and, wherever the data is to be analyzed, a database that stores the biometric data for comparison with entered biometric data. In converting the biometric input, the software identifies specific points of data as match points. The match points are processed using an algorithm into a value that can be compared with biometric data scanned when a user tries to gain access.




Besides fingerprints, voice patterns, face measurement, and retina and iris measurements are considered viable approaches. One vendor makes a product that analyzes patterns using a neural network approach. Fingerprint, facial, or other biometric data can be placed on smart card and users can present both the smartcard and their fingerprints or faces to merchants, banks, or telephones for an extra degree of authentication. Some analysts feel that biometric data is likely to be used instead of a password to release digital signature to authorize sales and other transactions.




IBM, Microsoft, Novell, and others are developing a A Tour of the Internet, Who Runs It, Standards Org, called BioAPI, that will allow different manufacturers' software to interact. There are privacy concerns about the gathering and proliferation of biometric data. One suggestion is to encrypt the biometric data and discard the original data.


For more information, click here: Biometrics

Dig Deeper on Biometric Technology
PRO+
Content
Find more PRO+ content and other member only offers, here.