Pakhnyushchyy - Fotolia
Get started
Bring yourself up to speed with our introductory content.
How can the Border Router Security Tool improve enterprise security?
The Border Router Security Tool aims to improve router security to boost Internet safety. Expert Kevin Beaver explains its place in the enterprise.
What is the Border Router Security Tool (BRST) and how does work? Should it be considered for use in an enterprise security strategy?
"Securing the Internet one router at a time."
That's the worthy goal of the Border Router Security Tool.
If you still have a "border router" that connects your firewall to a more traditional Internet connection such as a T1 line or frame relay, this tool may prove beneficial.
BRST provides a means for organizations to easily configure routers before deploying them, when upgrading and so on. This approach lends itself to more consistent standards and, presumably, better security.
Various options for configuring your router include:
Enabling/disabling global and internal network segment services such as DHCP, HTTP, Finger and IP redirect;
Identifying a trusted computer for remote access;
Configuring a DMZ; and
Enabling logging.
Here's a snippet of the Border Router Security Tool interface: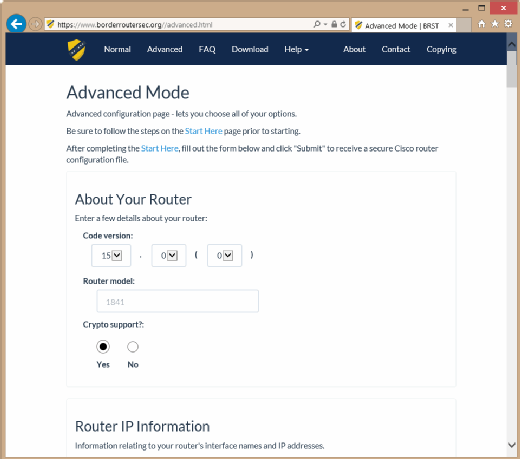 There's also a downloadable version of the Border Router Security Tool available on GitHub if you want to use it internally on your network.
I don't think there's anything wrong with using such a tool in your enterprise security strategy. If anything, it can increase productivity and ensure standardization across systems. I can't imagine any IT professional not being able to benefit from such an approach. As the tool suggests, just be careful entering in potentially sensitive configuration information and passwords that could end up being used against you at some point.
Ask the Expert:
Have a question about network security? Send it via email today. (All questions are anonymous.)
Next Steps
Learn more about using routers to boost network firewall security
This was last published in
July 2015
Dig Deeper on Network device security: Appliances, firewalls and switches
Explore the differing roles of inbound versus outbound firewall rules for enterprise network security and the varying use cases for each. Continue Reading
Compare host IDS vs. network IDS through the pros and cons of each, and learn how more modern systems may be better suited to ensure effective ... Continue Reading
Different tools protect different assets at the network and application layers. But both network and application security need to support the larger ... Continue Reading