News
Stay informed about the latest enterprise technology news and product updates.
RSA 2017: Special conference coverage
San Francisco -- Feb. 13-17, 2017
Introduction
Join us at RSA 2017 as SearchSecurity editors cover all the breaking news from the event, interview the foremost industry experts at the show and provide in-depth coverage of the most pressing issues facing information security professionals and enterprises.
RSA Conference is the information security industry's largest and most influential annual event. This year's show, from Feb. 13 to 17 at the Moscone Center in San Francisco, covers the latest trends, technologies and threats.
1

Cyberattacks and adversaries

-
Enterprise threats and defense
Understanding and stopping today's cyberattacks and adversaries, from ransomware to IoT botnets to powerful DDoS attacks, is critical. The threat landscape is always changing, and enterprises and security companies must adapt. Find out which tools, techniques and vulnerabilities threat actors are using now, and what experts at RSA 2017 say should be done to stop them.
2

Emerging technologies

-
Machine learning, threat intelligence and security analytics
New technologies and service models like machine learning, threat intelligence and cloud access security brokers continue to change the information security industry. Here's what experts at RSA 2017 are saying about these emerging trends and technologies.

Download this free guide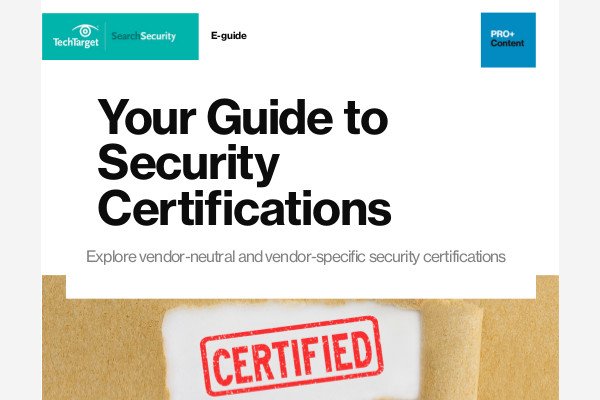 Your Guide to Info Sec Certifications
We've collected 30+ certifications for you. Which vendor-neutral and vendor-specific security certifications are best for you? Save time by downloading our list organized by experience level.
3

Government security

-
Cyberespionage, surveillance and regulations
Issues such as government surveillance, privacy regulations and encryption technology, as well as growing cyberespionage threats and nation-state attacks, have thrust the U.S. government to the center stage of the infosec world. Get the latest information and expert opinions from RSA 2017 on these important issues.
4

Video and podcasts

-
RSA 2017 sights and sounds
Our editors and reporters talk with security experts on the hottest topics emerging from RSA Conference 2017.
Podcast
In this episode of SearchSecurity's Risk & Repeat podcast, editors discuss their plans, expectations and predictions for RSA Conference 2017 next week in San Francisco. Continue Reading
Podcast
In this episode of SearchSecurity's Risk & Repeat podcast, editors recap RSA Conference 2017 and discuss how the show addressed many security problems, but had very few answers. Continue Reading
Podcast
In this episode of SearchSecurity's Risk & Repeat podcast, Kevin Walker, Juniper Networks' security chief technology and strategy officer, talks about SDN security challenges. Continue Reading