Definition
International Data Encryption Algorithm (IDEA)
IDEA (International Data Encryption Algorithm) is an encryption algorithm developed at ETH in Zurich, Switzerland. It uses a block cipher with a 128-bit key, and is generally considered to be very secure. It is considered among the best publicly known algorithms. In the several years that it has been in use, no practical attacks on it have been published despite of a number of attempts to find some. IDEA is patented in the United States and in most of the European countries. The patent is held by Ascom-Tech. Non-commercial use of IDEA is free. Commercial licenses can be obtained by contacting Ascom-Tech.

Download this free guide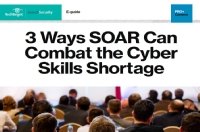 3 Ways SOAR Can Combat the Cybersecurity Skills Shortage
What are some of the strategies that your organization has implemented to help combat the cybersecurity skills gap? Mike Chapple, senior director of IT at University of Notre Dame explains how log processing, threat intelligence and account lifecycle management can help alleviate the shortage of qualified pros and have teams work smarter, not harder.
Continue Reading About International Data Encryption Algorithm (IDEA)
Dig Deeper on Disk and file encryption tools