Definition
OCSP (Online Certificate Status Protocol)
OCSP (Online Certificate Status Protocol) is one of two common schemes for maintaining the security of a server and other network resources. The other, older method, which OCSP has superseded in some scenarios, is known as Certificate Revocation List (CRL).

Download this free guide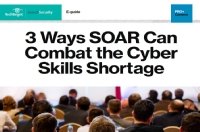 3 Ways SOAR Can Combat the Cybersecurity Skills Shortage
What are some of the strategies that your organization has implemented to help combat the cybersecurity skills gap? Mike Chapple, senior director of IT at University of Notre Dame explains how log processing, threat intelligence and account lifecycle management can help alleviate the shortage of qualified pros and have teams work smarter, not harder.
OCSP overcomes the chief limitation of CRL: the fact that updates must be frequently downloaded to keep the list current at the client end. When a user attempts to access a server, OCSP sends a request for certificate status information. The server sends back a response of "current", "expired," or "unknown." The protocol specifies the syntax for communication between the server (which contains the certificate status) and the client application (which is informed of that status). OCSP allows users with expired certificates a grace period, so they can access servers for a limited time before renewing.
Continue Reading About OCSP (Online Certificate Status Protocol)
Dig Deeper on Web browser security