Definition
Public-Key Cryptography Standards (PKCS)
The Public-Key Cryptography Standards (PKCS) are a set of intervendor standard protocols for making possible secure information exchange on the Internet using a public key infrastructure (PKI). The standards include RSA encryption, password-based encryption, extended certificate syntax, and cryptographic message syntax for S/MIME, RSA's proposed standard for secure e-mail. The standards were developed by RSA Laboratories in cooperation with a consortium that included Apple, Microsoft, DEC, Lotus, Sun, and MIT.

Download this free guide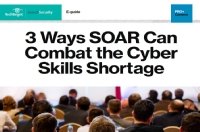 3 Ways SOAR Can Combat the Cybersecurity Skills Shortage
What are some of the strategies that your organization has implemented to help combat the cybersecurity skills gap? Mike Chapple, senior director of IT at University of Notre Dame explains how log processing, threat intelligence and account lifecycle management can help alleviate the shortage of qualified pros and have teams work smarter, not harder.
Continue Reading About Public-Key Cryptography Standards (PKCS)
Dig Deeper on Disk and file encryption tools