Definition
Public-Key Cryptography Standards (PKCS)
The Public-Key Cryptography Standards (PKCS) are a set of intervendor standard protocols for making possible secure information exchange on the Internet using a public key infrastructure (PKI). The standards include RSA encryption, password-based encryption, extended certificate syntax, and cryptographic message syntax for S/MIME, RSA's proposed standard for secure e-mail. The standards were developed by RSA Laboratories in cooperation with a consortium that included Apple, Microsoft, DEC, Lotus, Sun, and MIT.

Download this free guide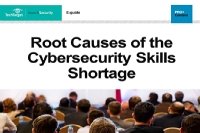 Free Guide: Root Causes of the Cybersecurity Skills Shortage
Our editorial director sat down with David Shearer, CEO of (ISC)², for a Q&A where they discussed what is (and isn't) contributing to the cybersecurity skills shortage in the United States and how to fix the problem.
Continue Reading About Public-Key Cryptography Standards (PKCS)
Dig Deeper on Disk and file encryption tools