Definition
public key certificate
A public key certificate is a digitally signed document that serves to validate the sender's authorization and name. The document consists of a specially formatted block of data that contains the name of the certificate holder (which may be either a user or a system name) and the holder's public key, as well as the digital signature of a certification authority for authentication. The certification authority attests that the sender's name is the one associated with the public key in the document. A user ID packet, containing the sender's unique identifier, is sent after the certificate packet. There are different types of public key certificates for different functions, such as authorization for a specific action or delegation of authority. Public key certificates are part of a public key infrastructure that deals with digitally signed documents. The other components are public key encryption, trusted third parties (such as the certification authority), and mechanisms for certificate publication and issuing.

Download this free guide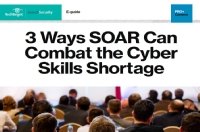 3 Ways SOAR Can Combat the Cybersecurity Skills Shortage
What are some of the strategies that your organization has implemented to help combat the cybersecurity skills gap? Mike Chapple, senior director of IT at University of Notre Dame explains how log processing, threat intelligence and account lifecycle management can help alleviate the shortage of qualified pros and have teams work smarter, not harder.
Continue Reading About public key certificate
Dig Deeper on Disk and file encryption tools