Get started
Bring yourself up to speed with our introductory content.
Understanding endpoint security products, features and vendors
Both the increasing number and complexity of enterprise endpoints is causing numerous security woes, yet navigating the endpoint security arena can be daunting. This guide offers the direction your company needs.
Introduction
Each device that connects to the corporate network must be adequately secured to prevent breaches and the loss of sensitive data. However, with the average employee using anywhere from one to eight-plus devices -- including desktops, laptops, smartphones, tablets and business-required specialized equipment -- the task of securing these various employee-owned and corporate-issued endpoints can be daunting for any size business to say the least.
In this guide featuring security expert Karen Scarfone, take a look into the core of endpoint security software -- from what the technology is and the benefits it offers to how perform an evaluation of vendors and their products.
Whether your business is evaluating an endpoint security suite purchase or if it needs help deciding which features to look for, this guide will help every step of the way.
1

What is endpoint protection?

-
The basics of endpoint security software
Endpoint security can mean different things to different people. The important thing to remember is that as the number of endpoints increase in an enterprise -- be they laptops or smartphones -- so can security issues they introduce. Learn more about what endpoint security is, the benefits it offers and the multiple features endpoint protection products provide.
Tip
Uncover what endpoint security is and how it can help combat some of your enterprise's hardest security woes in relation to desktops, laptops, smartphones, tablets and other devices. Continue Reading
Tip
Did you know using an integrated endpoint security suite rather than point products can help decrease the number of data breaches an enterprise incurs? Or that it can reduce overhead costs? Learn more now. Continue Reading
Tip
The features and functionality of endpoint protection products vary from vendor to vendor. Take a detailed look at the security capabilities most endpoint security software includes. Continue Reading
2

Endpoint product assessment

-
How to evaluate endpoint security vendors and products
Knowing about different companies and the products they offer is a critical part of the evaluation process. However, the endpoint security marketplace can be a confusing place to maneuver. Uncover questions your enterprise should ask potential vendors, as well as a list of comprehensive endpoint security vendors your enterprise should have on its short list.
Tip
Check out a starter-list of questions to ask potential vendors about their products and view a list companies to consider during evaluation. Continue Reading

Download this free guide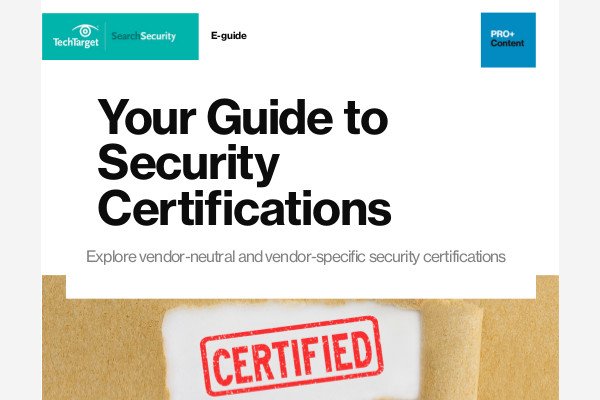 Your Guide to Info Sec Certifications
We've collected 30+ certifications for you. Which vendor-neutral and vendor-specific security certifications are best for you? Save time by downloading our list organized by experience level.
3

Sealing the deal

-
Endpoint protection: Security must-have?
Endpoint security isn't always the best option for all organizations. So how do you know if it's best for your business security needs? Take a look at how to decide whether an integrated endpoint security suite or point products would be more beneficial in your organization, and uncover final considerations to keep in mind before investing to ensure your business gets the biggest bang for its buck.
Tip
Does your business really need an integrated endpoint security suite? Or are point products a better fit? Get help deciding which would better suit your business needs. Continue Reading
Tip
Review a list of questions your enterprise must ask itself before purchasing endpoint security software. Continue Reading