Evaluate
Weigh the pros and cons of technologies, products and projects you are considering.
8 leading identity and access management products for 2020
IAM tools keep enterprises safe by ensuring only authorized users can access sensitive data and applications. Read this in-depth product overview of top tools on the market.
Modern identity and access management products help IT security professionals centrally manage access to all applications and files for employees, customers, partners and other authorized groups. This IAM-provided management is scalable across the entire corporate infrastructure, including the corporate LAN, wireless LAN, WAN, and even into public and private clouds. In many cases, IAM is a must-have for resources that fall under regulatory compliance rules.
The two most basic IAM processes required to secure access to digital assets are the following:
Identify who it is that is trying to access resources by using authentication.
Verify that identified users indeed should be authorized to reach the resource they are attempting to access.
At its core, this is the purpose of identity and access management. These platforms create a secure way to identify people or devices and then provide them with the appropriate access to digital resources.
The features and benefits of IAM don't end at identification and access control. Here is a list and brief description of common features found within IAM platforms today.
User provisioning. These tools streamline the onboarding process of user account creation and the assignment of authorization roles that define what resources the user can access.
Centralized access management. No matter where applications and data reside, IAM centralizes the management of those resources so admins can uniformly manage access and authorization controls across the entire infrastructure.
Password synchronization. This offers the ability to have applications synchronize a user's password across multiple applications or services.
Single sign-on (SSO). A series of processes that enables users to authenticate one time through a centralized portal and then have full access to the resources they're authorized to have without needing to undergo additional authentication steps. It accomplishes this by passing the singular granted authentication from system to system on an as-needed basis.
Multifactor authentication (MFA). This is the use of more than one method to authenticate a user or device. MFA provides better assurance that authenticators are who they claim to be.
User activity compliance/compliance control. This enables an organization to take advantage of the capabilities of IAM to help protect and identify activity risks regarding the privacy and protection of data that is under strict regulatory compliance rules.
Identity governance. This is a policy-driven approach mandated by many regulatory compliance rules that requires the platform to demonstrate that it is handling identity and access management appropriately according to specific compliance requirements.
Managed security. As companies grow, one of the biggest issues revolves around maintaining a scalable authentication and access control framework. IAM platforms achieve this in a centralized platform that is far easier to manage compared to siloed authentication and access control on a per-application or per-device basis.
Access portal service. For large organizations, a self-service portal can save a tremendous number of man-hours. Employees and customers can use portals for self-registration, password resets, profile management, access requests and other similar tasks.
API gateway. While most IAM platforms provide prebuilt integrations with hundreds or thousands of third-party applications to authenticate and grant access against, some businesses use legacy or custom-built applications that require a bit more work. In these cases, an API can create a custom front end to enable the application to authenticate and control access using IAM. The API gateway then funnels all API calls to the back-end IAM system so it can properly identify users and grant/deny access.
Risk analytics. Some IAM platforms collect user authentication and access identity behavior over time. Additionally, relevant data, including end-user access location, time of day and the type of desired access, is also collected. Using AI, IAM can use this baseline information to spot anomalies in user behavior that can point to misuse or attacks.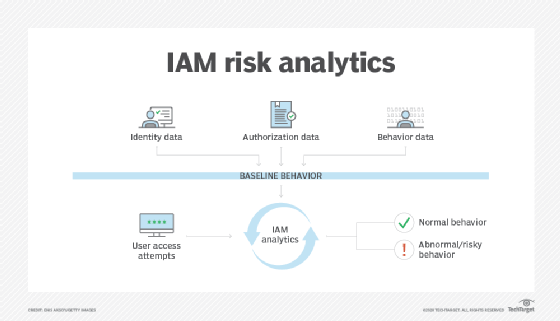 Next, let's look at eight of the top IAM vendors and products to provide a brief example of the available choices enterprise customers have and how products differ within the current IAM market space.
1. IBM
IBM has transitioned from a PC, laptop and server hardware provider to a trailblazer in cloud computing, AI and advanced analytics. Its Cloud IAM platform is a SaaS-based product that works for on-premises, cloud and hybrid cloud architectures. Cloud IAM is a well-rounded offering that includes features such as the following:
MFA
SSO
privileged access management
identity governance
The product works well for both workforce and customer-facing applications. Since IBM is well versed in AI, big data and deep analytics, Cloud IAM incorporates these advanced features into the product, which helps automate the modification of user access controls/limits and identify anomalous or risky levels of access.
2. Idaptive
In early 2019, Centrify spun its IAM business out to form a new company called Idaptive. This pure-play company offers a SaaS-based IAM platform that uses a zero-trust framework as a foundation. The platform is available for cloud, on-premises or mobile applications and services.
The Idaptive product integrates well with existing identity repositories that many small- to large-sized organizations may already have, including Microsoft Active Directory (AD), Lightweight Directory Access Protocol and Google's G Suite. Additionally, the platform has a distinct application federation feature that enables the use of SSO without passwords. Instead, authentication happens using temporary tokens that identify users.
Lastly, Idaptive is known to have a cleanly designed dashboard, where administrators can quickly identify things such as failing integrations, potential threats and other issues that IT admins should quickly address.
3. Microsoft
Microsoft's AD is popular within enterprises to assist with authentication and access control within Windows domains. Azure IAM boasts thousands of premade, third-party application integrations that cover a range of business services, including the following:
management tools
collaboration
CRM
e-commerce
ERP
The product is also known for its open standard API, which enables creation of custom application and service integrations. Azure IAM is part of the larger Azure Security Center suite of tools. Thus, for organizations that use Microsoft Azure AD -- and primarily for off-the shelf businesses that have preintegrated hooks into the Azure platform -- it's a solid choice.
4. Okta
A pure-play vendor, Okta is considered a pioneer in the SaaS-based IAM market. As a vendor-neutral platform, it can function well, regardless of the types of underlying infrastructure technologies in use. While Okta is most known for customer IAM (CIAM), it is building a solid workforce IAM market base as well for both enterprise cloud and hybrid cloud environments. The Okta universal user/group/device directory can pull data from several directory sources.
Lastly, the Okta ThreatInsight feature blacklists known malicious IP addresses that attempt to steal credentials, while rate limiting other sources to prevent distributed denial-of-service attacks.
5. Oracle
Existing Oracle customers will likely gravitate to Oracle's Identity Cloud Service platform for their IAM needs. Identity Cloud Service is ideal for hybrid cloud architectures and especially useful for managing identity and access in multi-tenant scenarios. The platform's customizable user portal is great for businesses that want to offload simple tasks to end users through an easy-to-use self-service website.
Oracle Identity Cloud Service also touts a highly extensive API to integrate custom applications that don't already have prebuilt integrations.
Lastly, Oracle continues to work on the overall performance of the platform -- making it one of the most reliable and fastest platforms on the market.
6. Ping Identity
As another pure-play vendor, Ping is well known in the IAM space and is a trailblazer in SSO and MFA. In fact, it's widely known that Ping is the only vendor Microsoft tapped to offer the use of identity services within the Microsoft Azure AD Premium offering. Ping Identity is available in several different package offerings, depending on whether businesses require IAM services for internal employees, external customers or a combination of the two.
Ping also offers several useful turnkey cointegrated systems for companies that have specific IAM needs. Some turnkey platform examples include IAM for Microsoft AD Federation Services, AWS, Google Cloud, Zscaler Internet Access and Zoom.
7. RSA
Whether an environment is on premises, hybrid cloud or fully SaaS, RSA SecurID Suite is a good all-around choice as the platform offers flexible deployment options. This is especially true if MFA flexibility is necessary for an enterprise. This product also checks all the necessary feature boxes for larger organizations, such as the following:
SSO
identity and lifecycle management
identity governance
The RSA Ready program is a technology partner portal that enables third-party software vendors to offer integrations of their products into SecurID Suite. Currently, the program consists of over 500 software partners with more than 1,000 RSA-certified integrations.
Also, keep in mind that RSA is a subsidiary of Dell EMC. Thus, for businesses that are already heavily invested in other Dell EMC or RSA technologies, choosing RSA SecurID Suite makes sense from an integration and support standpoint.
8. SailPoint
Sailpoint is another pure-play IAM provider. It's also one of the smaller companies on this list. Yet, what it lacks in size, it makes up for in IAM functionality and overall flexibility to operate within any enterprise architecture. The company claims that its IdentityIQ platform enables businesses to connect, on average, up to 99% of all current applications and data using simplified integration wizards and preconfigured workflows.
Another notable detail is that customers can separate the core IAM features from their more advanced, AI-driven analytics components. The AI portion of the product is known as Predictive Identity. Customers can choose to purchase Predictive Identity and integrate it with the other parts of IdentityIQ immediately -- or opt to add this capability later or not at all.
This is a great model for those companies that may not have the in-house staff to properly manage the analytics side of the product today, but may wish to enable it sometime in the future.
This was last published in
May 2020
Dig Deeper on Enterprise identity and access management