Ability to see the big picture
The information security manager must not be easily distracted by the fire fighting that inevitably comes with...
Continue Reading This Article
Enjoy this article as well as all of our content, including E-Guides, news, tips and more.
the job. Taking care of virus problems is certainly important, but this day-to-day work must not crowd out important but not urgent long-run projects such as compiling a network security architecture. The manager must be able to prioritize resources in a way that satisfies the organization's urgently pressing needs, but at the same time move the organization in the direction of implementing generally accepted information security solutions. The manager must also be able to synthesize information from many different sources to come up with a plan for improving information security that is truly responsive to the organization's business needs. A manager with a narrow technical focus will impede information security progress, because it is only through a broad view of information security that innovative solutions can be conceived. Furthermore, the manager must be able to read between the lines, identifying the true underlying causes of problems that the organization faces. The manager must additionally have the guts to tell the truth about these underlying causes.

INFORMATION SECURITY MANAGER QUALIFICATIONS

Introduction
Excellent communication skills
Good relationship management skills
Ability to manage many important projects simultaneously
Ability to resolve conflicts between security and business objectives
Ability to see the big picture
Basic familiarity with information security technology
Real world hands-on experience
Commitment to staying on top of the technology
Honesty and high-integrity character
Familiarity with information security management
Tolerance for ambiguity and uncertainty
Demonstrated good judgement
Ability to work independently
A certain amount of polish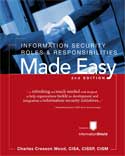 Information Security Roles and Responsibilities Made Easy, Version 2
By Charles Cresson Wood
278 pages; $495
Published by Information Shield

Download Appendix B, Personal Qualifications
Dig Deeper on Information security certifications, training and jobs