 BACKGROUND IMAGE: iSTOCK/GETTY IMAGES
Evaluate
Weigh the pros and cons of technologies, products and projects you are considering.
Best of encryption products 2013
Readers vote on the top encryption products in 2013: full drive encryption, mobile storage, certificate management and secure communications.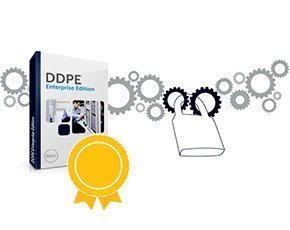 Given the fundamental role cryptography plays in so many aspects of security, it might initially seem surprising that we haven't awarded Readers' Choice honors for encryption products in the past. Then again, much of the history of information security has involved not bothering to encrypt things. With the rise of customer-record breaches, organizations are finally getting serious about encryption, so we asked you to let us know which products are making the difference. The first gold medal for an encryption product goes to Dell Data Protection.
Readers gave Dell high scores for algorithm confidence (though, to be fair, there was high confidence in this category for all the front runners) as well as in speed and end user ease of use.
One interesting feature of the Dell offering is an intelligent file-based encryption option that Dell says effectively splits the difference between full disk or sector-based encryption and encryption of individual files. It uses administrator-defined rules to determine which files need to be encrypted, based on whose disk the file resides on, what kind of file it is, and so on. The product also oversees encryption of removable media.
Expert market reflection on category dynamics:
"Getting encryption right at an enterprise scale has always been challenging. What has changed over the past few years, however, is that available products are capable of handling some of the toughest hurdles, such as key management, with little impact on system performance. The additional benefits encryption provides to address laws and regulations, gives it the nudge it has needed to become a clear winner from an economic perspective."
-- Pete Lindstrom, principal and vice president of research, Spire Security

Silver winner: Check Point Full Disk Encryption, Check Point Software Technologies Ltd
Check Point's Full Disk Encryption has made its mark particularly in the notebook space, with readers rating it highly for its scalability and noting that "enterprise key recovery is reliable and requires little time when properly authorized." Other highly rated attributes included ease of installation, configuration and administration; integration and compatibility; and managing encryption and decryption in a timely manner. The product is a "software blade" in Check Point's modular endpoint architecture, and thus can be mixed and matched with other software blade components.

Bronze winner: SecureData Enterprise, Voltage Security, Inc.
Voltage Security was edged out by a hair's breadth to land the bronze and in fact enjoyed the highest score in the group for scalability, along with excellent scores for ease of use and integration. Voltage SecureData Enterprise provides a comprehensive approach to enterprise data protection, grouping together Voltage's separate Format-Preserving Encryption, Secure Stateless Tokenization technology, Stateless Key Management products, along with an industry-leading data masking technology to address the entire lifecycle of sensitive data as it moves through the enterprise.
This was last published in
October 2013
Dig Deeper on Disk and file encryption tools