Share this item with your network: Defending the digital infrastructure

iSTOCK/GETTY IMAGES
Evaluate
Weigh the pros and cons of technologies, products and projects you are considering.
Best of unified threat management 2013
Readers rate the top unified threat management products in 2013: integrated security systems with firewall, content filtering and antivirus software.
By
Kathleen Richards, features editor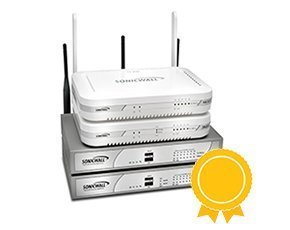 Dell SonicWall wins the gold in Unified Threat Management (UTM), a category that makes its return in this year's Readers' Choice Awards, as integrated firewall and IDS/IPS platforms continue to mature and gain popularity in SMB organizations and enterprises.
Dell's UTM product offers integrated security technologies with a single management console built around the company's SonicWall firewall appliances. SonicWall integrates Dell's Gateway Anti-Virus, Anti-Spyware as well as the company's Intrusion Protection Service and Application Intelligence.
SonicWall scored the best ratings across the board from readers, with the highest score for its ease of installation, configuration and administration. Users liked SonicWall's breadth of security functions and features. They also applauded SonicWall's depth of security provided by individual functions, and Dell's service and support. Overall, voters deemed the Dell SonicWall firewall appliances as "excellent" and a "very good solution."
Expert market reflection on category dynamics:
"UTMs, even when called NGFWs, are an amalgamation of IPS, firewall, and user awareness functionality that have come a long way since their market introduction. They offer an economic and convenient solution through unification of in-line security products into one appliance, which is quite well suited to networks which house end-users."
-- Frank Artes, chief technology architect, NSS Labs

Silver winner: Check Point Unified Threat Management, Check Point Software Technologies LTD.
Check Point's UTM-1 Security Appliance won the Silver in the UTM category. The product consolidates network security technologies—firewall, VPN, intrusion prevention and antivirus—into a single platform with centralized management for multiple networking sites.
Readers applauded the security appliance's security functions and features as well as the choice of add-on security applications. Voters also felt that they were getting their money's worth, giving the Check Point UTM-1 Security Appliance high marks for its return on investment. Comments ranged from "what a great product" to "good modular structure for integration." One organization had a few issues with Check Point's support and services: "We do like the product, but struggle with support at times."

Bronze winner: FortiGate, Fortinet, Inc.
Fortinet's FortiGate won the bronze in the UTM category, finishing a close third to Check Point Software. One-third of readers who voted in the UTM category used a FortiGate UTM.
Fortinet earned high marks for the product's ease of installation, configuration and administration. The FortiGate UTM also won good ratings from readers for its range of security features and return on investment. Several people described the product as "excellent." One said, it was "cost-effective and easy to use." Another noted "specific problems with support."
The FortiGate UTM integrates multiple technologies onto a single security platform including firewall, intrusion prevention, application control, Web content filtering, VPN, among others.
Dig Deeper on Security industry market trends, predictions and forecasts