Excellent communication skills
More than anything else, an information security manager must act as a liaison between many different groups with...
Continue Reading This Article
Enjoy this article as well as all of our content, including E-Guides, news, tips and more.
different world views, different objectives and different needs. The manager must be able to attentively listen, just as he or she must be able to clearly state what needs to be done. This manager must also be able to persuade management to adopt new and possibly unpopular courses of action. The manager will be required to write top management status report memos, risk analysis reports, security incident post-mortem analyses, vendor request for proposal documents, employee job performance evaluations and many other documents. This manager may also be called upon to act as an organizational spokesperson with the news media and professional society standards setting committees. The manager may additionally be called upon to give presentations at industry and technical conferences. This manager must therefore have excellent interpersonal skills, including writing and public speaking skills. While an increasing number of organizations are using a bachelor's degree as a quick-and-dirty indicator of communications skills, organizations recruiting a manager should go one step further and look for specific evidence of excellent communication skills such as papers written, conference speeches delivered, industry standards committees served, etc.
INFORMATION SECURITY MANAGER QUALIFICATIONS
Excellent communication skills
---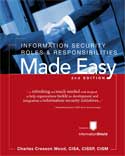 Information Security Roles and Responsibilities Made Easy, Version 2
By Charles Cresson Wood
278 pages; $495
Published by Information Shield

Download Appendix B, Personal Qualifications
Dig Deeper on Information security program management