Manage
Learn to apply best practices and optimize your operations.
Familiarity with information security management
The information security manager must know about the elements of an information security organizational infrastructure. These elements includes responsibilities, policies, standards, procedures and the like (a list of these is provided in "Current Documents"). The manager must also be familiar with, and know how to use, generally accepted information security management tools such as risk analysis software and contingency planning software. This manager must additionally be aware of other information systems management tools that can be used to enhance information security; one commonly deployed example is a network management system. If the manager is not familiar with information security management tools and approaches, he or she will not be able to marshal the limited information security resources to the organization's best advantage. This in turn will lead to problems like unnecessary costs and delays in developing new systems. For example, the manager may then suggest a manual solution when an automated solution is current available and more cost-effective.

INFORMATION SECURITY MANAGER QUALIFICATIONS

Introduction
Excellent communication skills
Good relationship management skills
Ability to manage many important projects simultaneously
Ability to resolve conflicts between security and business objectives
Ability to see the big picture
Basic familiarity with information security technology
Real world hands-on experience
Commitment to staying on top of the technology
Honesty and high-integrity character
Familiarity with information security management
Tolerance for ambiguity and uncertainty
Demonstrated good judgement
Ability to work independently
A certain amount of polish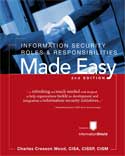 Information Security Roles and Responsibilities Made Easy, Version 2
By Charles Cresson Wood
278 pages; $495
Published by Information Shield

Download Appendix B, Personal Qualifications
Dig Deeper on Data privacy issues and compliance