Tolerance for ambiguity and uncertainty
Information security is very complex and full of interdependencies. In many instances, a viable solution to various...
Continue Reading This Article
Enjoy this article as well as all of our content, including E-Guides, news, tips and more.
information security problems has not yet been released as a commercial product. This means that the information security manager must be able to make do with the tools and techniques currently at his or her disposal. The manager must also be able to make defensible decisions when important or even critical pieces of information are unavailable or too costly to obtain. The manager must have a strong will and a tenacious personality that does not let these problems cause him or her to become overly cynical. At the same time, the manager must not live in a fantasy land where he or she does not see the realistic and serious nature of the information security issues facing the organization. A patient, relatively-optimistic, well-reasoned and level-headed manager who can adjust to a wide variety of situations will do best in this position.

INFORMATION SECURITY MANAGER QUALIFICATIONS

Introduction
Excellent communication skills
Good relationship management skills
Ability to manage many important projects simultaneously
Ability to resolve conflicts between security and business objectives
Ability to see the big picture
Basic familiarity with information security technology
Real world hands-on experience
Commitment to staying on top of the technology
Honesty and high-integrity character
Familiarity with information security management
Tolerance for ambiguity and uncertainty
Demonstrated good judgement
Ability to work independently
A certain amount of polish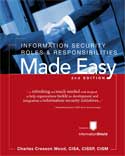 Information Security Roles and Responsibilities Made Easy, Version 2
By Charles Cresson Wood
278 pages; $495
Published by Information Shield

Download Appendix B, Personal Qualifications
Dig Deeper on Information security certifications, training and jobs